Artificial reef nets gains for fishermen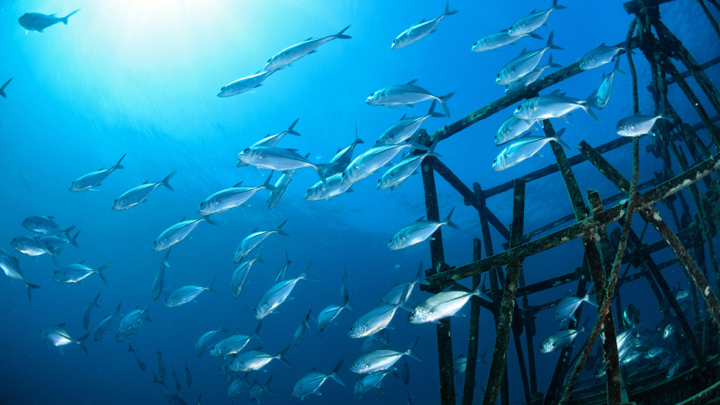 Western Australia's artificial reef trials are looking promising, with reports fish species at Bunbury and Dunsborough have quadrupled in the two years the structures have been in place.
Department of fisheries research found 50 species of finfish were found on the artificial reefs, up from just 12.
The reefs are made up of 60 box-shaped "modules" and have attracted a wide range of marine life, including coral and micro algae. Anglers will particularly be happy to know the new reefs are providing good habitat for samsonfish, snapper and skippy.
State Government Royalties for Regions invested $1.8 million to establish the South-West artificial reef and this initial success paves the way for further developments at Mandurah and Rottnest.
Regional Development Minister Terry Redman said, "I'm pleased to hear the positive results these structures have brought to the region, supporting the creation of opportunities for local tourism, charter operators and tackle and boating industries which base their businesses around the quality of the fishing experience".
Ad. Article continues below.
Another project in the north of the state, near the Kimberly, will cover 2000 square kilometres and aims to produce around 20,000 tonnes of fish, mostly barramundi, as reported in ABC Rural.
The use of artificial reefs to increase fish or other marine food stocks has been around for a long time. In 17th century Japan, rocks and rubble were used to grow kelp, while in the 1830s logs from wood cabins were used off the coast of South Carolina to improve fishing.
All around Australia decommissioned war ships and other vessels that have sunk or run aground, provide colourful scuba diving and fishing spots. Fifteen junks were sunk off Tangalooma on Moreton Island in 1963, and most recently exHMAS Adelaide was donated to the fish in 2011 off Terrigal on theNSW central coast by the Australian Government.
Global fish stocks are at an all-time low; according to the Australian Marine Conservation Society 85 per cent of the world's fish stocks are fished up to full capacity or are overstocked. Yet the world's appetite for seafood is constantly increasing. In Australia alone, we each consume an average of 25 kilograms of seafood each year. Artificial reefs, along with sustainable fishing practices and greater understanding of where our seafood comes from, is a step towards resolving this issue.
Are you a fisherperson? Would you welcome an artificial reef at your local spot?