Are they or aren't they? The TV romance that's struggling to take off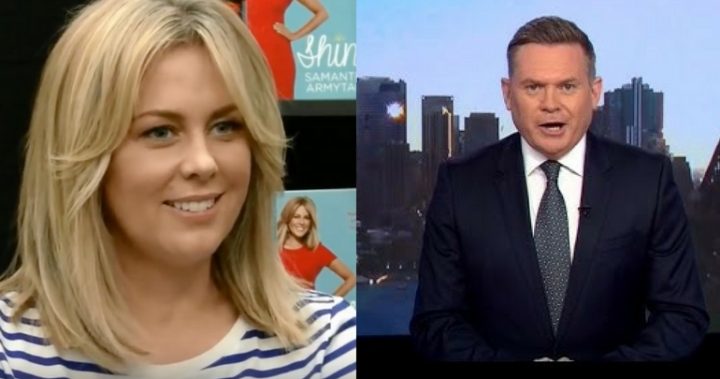 Talk of a romance between Channel Seven morning TV host Samantha Armytage and Seven newsreader Michael Usher has been quashed, for the second time around. 
The Daily Telegraph reported that the newsreader asked the Sunrise host out for the second time two months ago, after an earlier attempt at a pairing was brushed off by Armytage.
It was reported that after the second attempt, Usher, formerly a reporter for Channel Nine's 60 Minutes program, turned up for when he believed was going to be a romantic dinner with Armytage only to be joined by her boss, executive producer Michael Pell. Awkward!
The report claims that the pair were giving their potential relationship another try after encouragement from colleagues, and that they have spent time together at Armytage's Southern Highlands country retreat. 
Usher has three children from a previous marriage, and quit his role with 60 Minutes so he could spend more time with them. 
Ad. Article continues below.
Last month, Armytage had to fend off rumours that she was dating none other than Hollywood heartthrob Tom Cruise, after Woman's Day ran a fictitious cover story about the pair after an apparently flirtatious interview with the star. 
Read more: Samantha Armytage address Tom Cruise romance rumours
She took to social media with a picture she had snapped of the glossy magazine cover and her disbelief in the simple words "Say whaaat?"
Armytage spoke out about the rumours of her relationship with Cruise on Sunrise, laughing it off as Kochie gave her a grilling over the accusations. 
Armytage said that she hasn't had much luck in love in the past.
Ad. Article continues below.
"I meet lots of interesting men," she said.
"In the past I haven't been the greatest judge of character, but I think I've done a lot of growing up in the last couple of years and I'm more definite about what I won't put up with."
In the past she's told News Corp that she's looking. 
"I think all of Australia would like me to meet someone. It is not impossible. I'm out there. I'm out and about," she said. 
Do you think this pair would be a good match?