Anthony Mundine refuses to stand for national anthem again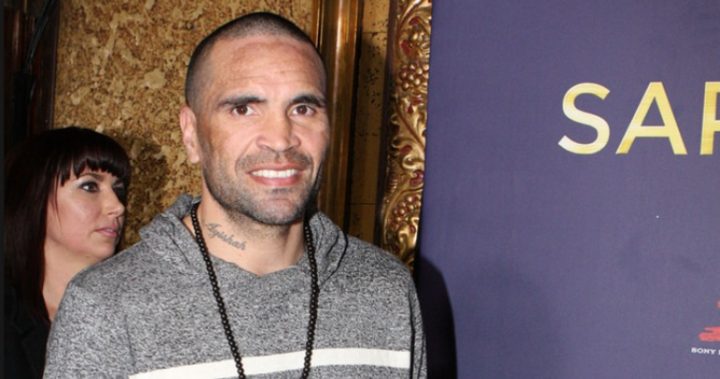 Boxer Anthony Mundine says he will take a stand against Australia's "racist" national anthem at his fight this Friday by remaining seated when the song plays.
The controversial boxer made headlines last year when he called for players at the AFL Grand Final to take a knee when the anthem was sung before the game.
In an angry outburst against the anthem, Mundine said he would not stand proud when singer Jessica Mauboy sings the anthem at his fight this Friday and said she was only chosen to sing because she's Indigenous.
"First and foremost I want to focus on the fight," Mundine said in a pre-game interview.
"I'm not trying to divide people or be controversial but you've asked the question and I'm answering it honestly to tell people where I stand. We're not young and free.
Ad. Article continues below.
"My people are still being oppressed. Nothing's changed … the anthem isn't right. It's not for all of Australia. I just can't stand up for something I don't believe in."
He then lashed out at Jess, saying he was being used as a puppet.
"It's a racist anthem and doesn't represent our people," He told News Corp.
"It's disrespectful to our people. And this is close to my heart. I like Jessica but it's not for our people. They are just using her because she is black."
His comments come after a huge campaign this year to move the date of Australia Day to something more respectful to Indigenous Australians and our country's history and treatment of them.
Ad. Article continues below.
Already though, Mundine is facing some backlash of his own, with commentators calling him out.
Anthony Mundine says he won't stand during the nat anthem b/c "it's racist" & Jess Mauboy was only chosen to sing it b/c "she's black". Huh?," Lisa Wilkinson wrote on social media this morning.
Others though say he is right to question the anthem and call for something that honours and respects our country's Indigenous heritage.
What do you think? Is he right here? Or should he show respect to the anthem?