Anthony Mundine left disappointed as all players stand for national anthem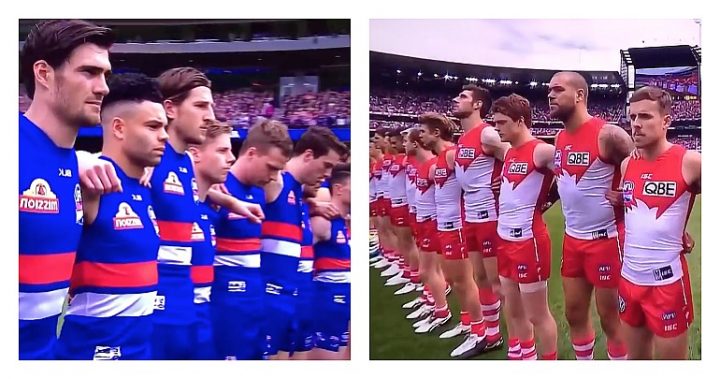 Anthony Mundine caused a stir this week when he called on all players to boycott the national anthem at this year's AFL Grand Final.
In a post on his Facebook page, he said the boycott would change "Australia's ignorant mentality" about Indigenous people and racism.
The idea was sparked by football players in America who have started kneeling during the anthem to protest police treatment of black people in the country, which has come to a head in recent months.
Read More: Anthony Mundine calls for a boycott to the Australian national anthem on GF weekend
However, what works in one country doesn't necessarily work in another!
Ad. Article continues below.
Mundine was quickly slammed prime minister Malcolm Turnbull and Sydney Swans player Lance 'Buddy' Franklin who is Indigenous and playing in the final today.
Despite all the backlash, Mundine's moment of truth came today when the national anthem rang out across the footy field and unfortunately for him not a single player fell to their knees.
All players from both teams stood arm in arm as they sang the anthem in unison.
Those watching on TV at home were quick to notice and applauded the players for standing together as one.
What are your thoughts? Are you glad to see all the players stood for the anthem? Or do you agree with Anthony Mundine on this?