Anthony Mundine is back in the headlines, but is it fair?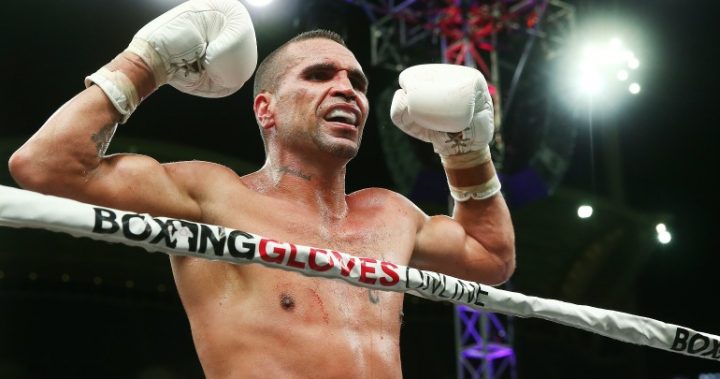 Outspoken boxer Anthony Mundine is all over the papers today, this time for earning a six-month driving ban over an unlicensed driving offence.
The Gold Coast Bulletin reported that Mundine was caught driving while his licence was suspended in November, and that he'd on Monday been sentenced to a six-month driving ban and handed a $450 fine. 
It's just a week since the Aboriginal boxer attracted attention with his comments about fellow Aussie boxer Jeff Horn, with Mundine claiming that Horn only received public attention because he was a "white boy".
"In the western society, whites get privileges, and because Horn is white, he gets all that attention and media coverage," Mundine reportedly said. (Horn played down the comments in response, dismissing them as "Mundine being Mundine".)
It was far from the first time Mundine has attracted attention for things he has said, rather than his performance in the ring. To choose just a few, in the past he's defended the 9/11 terrorist attack in the US, criticised Aboriginal boxer Daniel Geale for having a "white woman, white kids", and called for Australia Day to be a day of mourning for the Stolen Generation. 
Ad. Article continues below.
Mundine's also claimed that he never received recognition in Australia for his sporting achievements due to racism.
Some people argue that it's not racism, though, but Mundine's own actions, that result in him hitting the headlines more often for things he says than things he does.
"Mundine has been a fantastic athlete who has earned a small fortune from sport but he'll never have the adoration of the Australian public thanks to his chronic and divisive attention seeking," Rita Panahi, a Daily Telegraph columnist wrote shortly after Mundine's comments about Horn.
But others believe the boxer has a point, noting that Mundine in person is a far more humble and kind character, and accusing the media of selecting only his more outrageous comments for publication. It's a portrayal designed by the media that turns public opinion against high-profile individuals such as Mundine, not the individual themselves, the argument usually follows.
A similar point is often made about tennis star Nick Kyrgios, who often sees his sporting achievements overshadowed by reports of on-court tantrums and arguments with the umpire.
Ad. Article continues below.
A case in point, some said, was the attention given to his brother Christos' decision to flout advertising watershed rules and wear a SportsBet t-shirt while watching Nick play in the Australian Open last week – why, they asked, was there any coverage at all of what Christos was wearing, when all stories should've been focused on the match itself?
(Notwithstanding the fact that Christos clearly hoped his t-shirt would attract attention, otherwise it would've been a waste of time and money for SportsBet to have arranged for him to wear it.)
Of course, the counter argument is that if sportspeople, and others, wish for the focus to be on their endeavours, not their words or actions off the court, field, ring or elsewhere, then it would be in their own best interest to keep their comments measured and to try to avoid behaviour that they know is likely to attract undue attention.
Horn himself is often used to illustrate this argument – he comes across as understated and humble in interviews, and thus is broadly liked by the public as a 'good bloke' as well as a great sportsperson.
Then again, can a sportsperson any indeed anyone dictate how they are presented by the apparently mighty media, and thus perceived by much of the public? Is there a bias toward some high-profile individuals – would the media, for example, have reported the loss of a driving licence by another sports star, or is Mundine singled out for that kind of unflattering coverage?
Ad. Article continues below.
And do we really allow the media to dictate how we perceive a sportsperson, or is it their performance that counts?
What do you think – does the media aim unfairly unflattering coverage at some sports starts more than others? Does how, say, Anthony Mundine or Nick Kyrgios are reported on impact your perception of them? Or do you think that if people want flattering coverage, they should keep a tone down their behaviour and comments?