Anthony Mundine claims Jeff Horn is popular 'because he's white'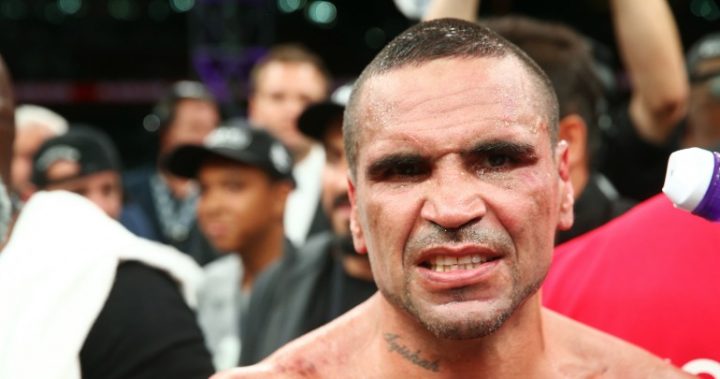 Anthony Mundine has slammed Jeff Horn, claiming his recent success in Australian boxing is 'down to him being white'.
The former world champion, 42, claimed "whites get privileges" and used fellow Australian boxer Horn's career success as an example, even claiming him and other indigenous Australians continue to suffer from discrimination.
"He's only the flavour of the month because he is a white boy, just like Danny Green was the white boy," Mundine told the Daily Telegraph. "You've just got to look at society — whites get privileges."
Mundine insisted skin colour shouldn't matter, as it's a person's heart that "makes them". However, he said he had to talk "s***" for years to get the attention he deserved.
"They've never given me my just dues because I'm a man of colour," he added.
Ad. Article continues below.
Mundine went on to speak out in support of a campaign to move Australia Day, insisting it fell on a "dark" day for many indigenous Australians. He said he's speaking out now, not to promote a fight, but to create a "change for the better" for his children.
Responding to the comments, Horn's trainer Glenn Rushton told the site they were "just wrong", and they wouldn't respond to "racism".
According to reports, Mundine was hoping to fight Horn this year before he chose to travel to the US to face Terence Crawford.
Read more: Anthony Mundine causes even more controversy with latest demand
Mundine has been known for sparking controversy with his outspoken comments in the past. He previously said he won't stand for the "racist" national anthem, before his management demanded he not be in the ring when the national anthem was sung, during his match with fellow Aussie boxer Danny Green.
Ad. Article continues below.
It was certainly an unusual move, which went against the tradition of both competitors being present (and standing) in the ring when the anthem is played before their match.
Seven News reported that Mundine's agent Khoder Nasser insisted the boxer not be present when the anthem is sung.
TV broadcast boss Steve Crawley confirmed it at the time. "I've spoken to Khoder Nasser and he doesn't want Anthony in the ring when the anthem is performed," he told News Corp.
"We'll continue to talk over the next few days but the way I figure it is, if you go to an NRL or AFL grand final, the athletes are on the field when the anthem is performed … I can't see why we won't do it while both fighters are in the ring."
What do you think of the comments?
Ad. Article continues below.
With Facebook removing news sites from your feeds we ask that you sign up for Starts at 60's emailers here. And to keep us on your wall, join some of our new Facebook groups and clubs:

News Junkies Club – Australia
News Junkies Club – USA 

See news on the change and links to all our other clubs and groups here.