Anthony Albanese opens up about a long-held family secret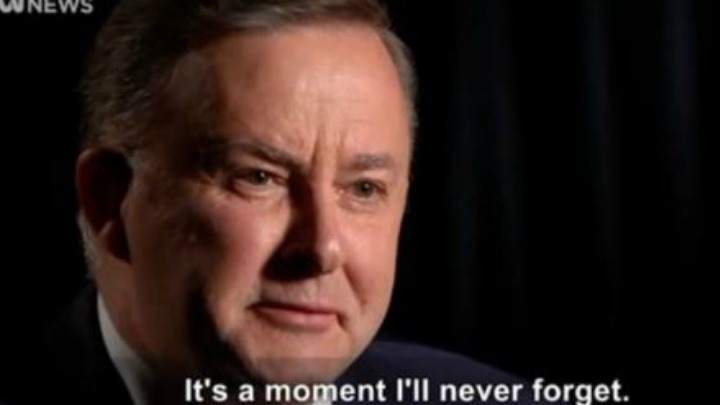 It must be difficult growing up not knowing anything about one of your parents; something Labor MP Anthony Albanese knows a bit about.
As one of Australia's most likeable and liked politicians, 'Albo' as he is affectionately known, has opened up about the journey he embarked on in his 40s to find his father.
The story has been detailed in an authorised biography titled Albanese: Telling It Straight, written by political journalist Karen Middleton.
Yet on Tuesday, August 23 the MP sat down on ABC's 7.30 program to talk about things.
As many might know, Albo grew up in Sydney's inner-west and was raised by his single mother, Mary. He lived in public housing. He'd been told that his mother met and married his father while she was travelling overseas, but he had died in a car accident.
Ad. Article continues below.
As it happens, Mary was telling porkies and it wasn't until Albanese reached his teens that she told him the truth – that his father might still be alive.
"We sat down just after dinner one night and she – it was very traumatic for her, I think, to tell me," Albanese said on 7.30.
"I think that whole guilt associated with having a child out of wedlock in 1963 as a young Catholic woman was a big deal and, hence, the extent to which she had gone to in terms of adopting my father's name, she wore an engagement and a wedding ring… the whole family just believed this story."
Out of respect for his mother, Albanese waited until after she died, in 2002, to take any action.
He knew his father's name, he even had a photograph of what the man looked like, and after piecing together bits of the puzzle Albanese figured that his father, Carlo, who had worked as a steward on the liner the Fairsky, would have worked for the company now known as P&O, or Carnival Cruises.
Ad. Article continues below.
Albanese describes the moment he found his father as 'breath taking' "because I didn't think that would happen".
After making a few arrangements Albanese travelled to Italy in 2009 to meet his father for the first time.
"I was very emotional. It was a big deal, it was a big moment in my life," he recalls.
What's been a 'big moment' in your life? Can you relate to Anthony Albanese's story?