Angelina Jolie sends a message to Isis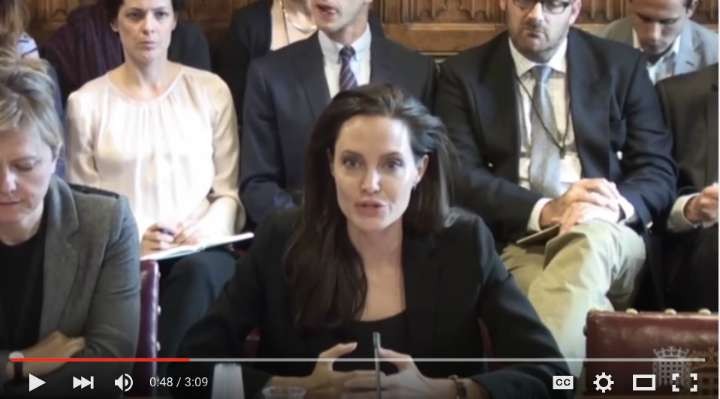 She impressed us with her courage and grace when she opened up about her breast cancer risk and double mastectomy, now the tireless actress and human rights activist has appeared before the British Parliament, about another issue that affects women – and young girls.
Angelina Jolie has been travelling to refugee camps, speaking with young women about the treatment they have suffered at the hands of Isis fighters, who use rape as a weapon in both Syria and Iraq.
"They are dictating it as policy… beyond what we have seen before. It is a very effective weapon, and they are using it as a centrepoint of their terror and their way of destroying communities and families, and attacking and dehumanising," said Ms Jolie, as reported by the BBC.
She continued, "The most important thing is to understand what it's not: it's not sexual, it's a violent, brutal, terrorising weapon and it is used unfortunately, everywhere."
Ms Jolie is a special envoy for the United Nations Human Rights Council and has been a fierce advocate of refugee rights for more than a decade. Last year, she co-chaired a global summit with British foreign secretary William Hague, in hopes of discouraging and condemning the use of mass rape as a weapon of war.
Ad. Article continues below.
The Oscar winner and star of Maleficent and Girl: Interrupted has urged all nations to take action in stemming the humanitarian crisis, in an article written for The Times.
"At no time in recent history has there been a greater need for leadership to deal with the consequences and causes of the global refugee crisis," she wrote.
"Syrians are fleeing barrel bombs, chemical weapons, rape and massacres. Their country has become a killing field. It should come as no surprise that people who have endured years of war, or who have been living in refugee camps on dwindling rations, are taking matters into their own hands."
See Ms Jolie's passionate opening speech to the British Parliament below:
What do you think of Angelina Jolie's efforts – do you think she can make a difference?