Andrew Bolt and Peter Fitzsimons in fight over racist slur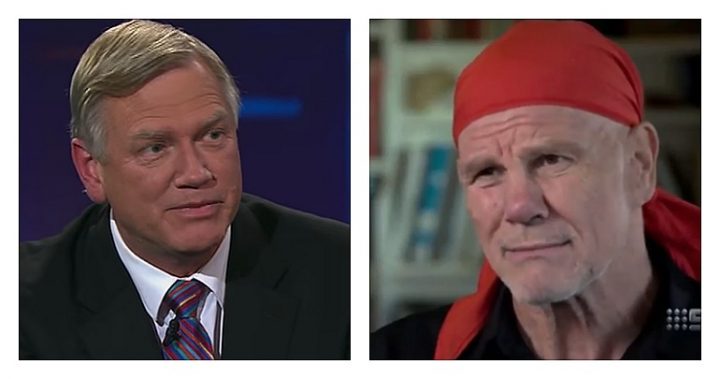 An argument between high-profile journalists Andrew Bolt and Peter Fitzsimons has caused a divide down the so-called left and right sides of media.
Bolt and Fitzsimons have been caught in a war of words over a slip of the tongue by the later when talking about an incident with the South African cricketing team last week.
Fitzsimons was talking on Sky Sports when he vented his outrage about a South African official who shoved a local journalist as the team made their way through the airport.
"That was disgraceful. If you are touring in a foreign country, you are visitors to their shores, to have your gorilla throw that guy — and I say gorilla in the sense of security, you know," he said.
This was where Bolt took issue. Fitzsimons had slammed Bolt in 2013 when he defended a 13-year-old girl who had called AFL player Adam Goodes an "ape".
Ad. Article continues below.
Now, Bolt has called Fitzsimons a hypocrite for his "gorilla" comment and demanded he apologise.
Aside from the clear issue of racial slurs that has arisen here, there has been talk about the apparent left and right leaning media.
Bolt blasted the "left leaning media" for letting Fitzsimons get away with his comment after they plastered the 13-year-old girl's face all over the front page.
While journalists are meant to remain impartial and balanced on all news and politics, it seems that in recent history a number of Australia's leading papers and websites have made their preferences clear.
For many, the problem with this is that readers get more of one side of the story than the other and it defeats the whole purpose on unbiased media.
Ad. Article continues below.
There have been calls from some for all news outlets to readjust and take a more balanced approach to the way they do things, but others say the system is just fine how it is and that compared to media sites in other parts of the world, Australia has it pretty good.
What are your thoughts?
Is the media too biased? Or do you think most media in Australia is fairly balanced?