Andre Agassi weighs in on Nick Kyrgios' attitude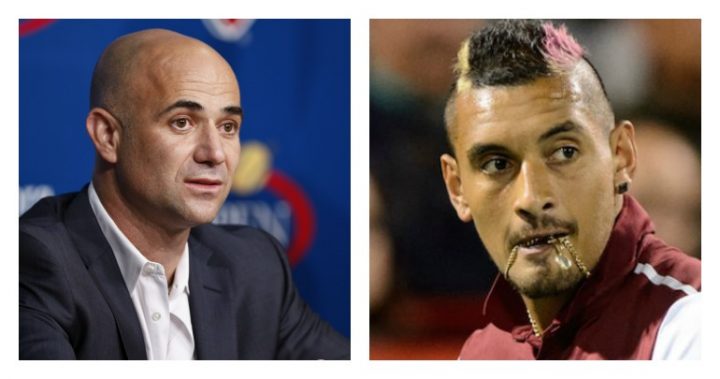 You know you need to make a change when of the greatest players of all time calls you out and that's exactly what's happened to Nick Kyrgios.
The 21-year-old has been told by Andre Agassi to wake up and get his priorities in order if he ever wants to make it to number one.
While Nick has made a name for himself as a 'tantrum thrower', many say there is no denying his talent – it's his attitude that needs work.
Now Andre has come out and said he thinks Nick has what it takes, he just needs to wake up and get his head straight.
"He can make the jump when he wakes up tomorrow, the rest is up to him," Andre said.
Ad. Article continues below.
"I find him a fascinating talent and a fascinating person in that he's still young and clear in his feelings towards the game and his openness to speak it.
"You can try to analyse the demons he needs to overcome, but he needs to come to terms with what he wants for himself.
"Tennis is an innocent bystander in that dilemma."
Andre famously revealed his own demons with tennis a few years ago, when he made the surprising admission that he hated tennis throughout his whole career.
Before he turned his own attitude around, Andre was considered one of the game's 'bad boys' so seems more than qualified to dish it out to young Nick.
Ad. Article continues below.
"From just a talent perspective, absolutely," he said when asked if he though Nick could ever make number one.
"But you have to solve further problems. You don't reach No.1 with peaks and valleys.
"You have to really balance that out to accomplish that part of it."
"You can win grand slams with peaks and valleys, two weeks of heaven … but to be No.1 requires a sustainable effort that doesn't allow for that kind of tumultuous ride."
All that remains to be seen is whether or not Nick takes his advice and gets his act together.
Do you think Nick will reach number 1 one day? Should we judge him on his attitude, or just his game?