An eggcellent, rainy time in Wales! [Rogue Nomads]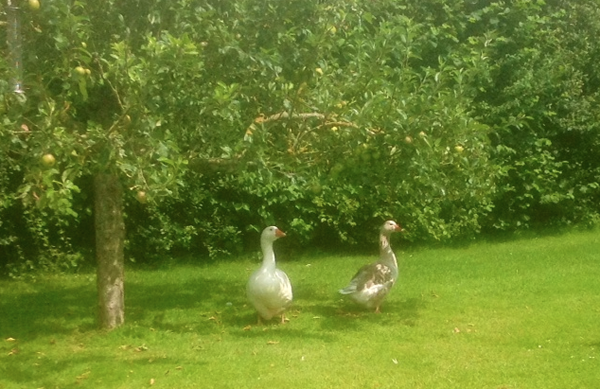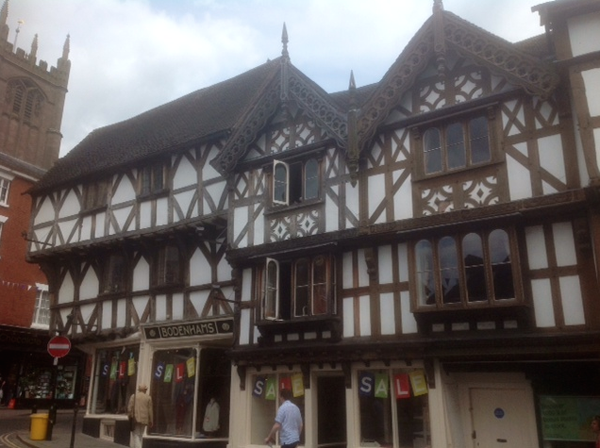 This is part 17 of Dee's grey nomad adventure around Europe. To read her previous instalment, click here
….where we have the most delightful time, house/pet sitting, go to the town with more heritage buildings than any other town, and get rained on in Wales.
The day the family left for their holiday in the sun, it was 31 degrees in Shropshire. The two dogs are spaniels, one Springer, the other Cocker – I didn't know this, but they make a good "pair". The Springer jumps and is used for flushing out birds that fly, e.g. pheasants and quail. The Cocker stays on the ground and actually goes under the bushes to flush out birds that run, like woodcocks. From this, the two dogs have got their names. And gee when we took them for walks they were true to their nature.
Ad. Article continues below.
The dogs weren't impressed that they'd been abandoned by their owners the first day, but the second day they were all over us. And from then on you'd think they were ours.
Three cats – one very old one – were no trouble. The two ginger cats kept fooling me as to which one had been fed, but apart from that they were great. Then there were the geese. As there are lots of foxes around they have to go into their railway carriage at night…yes, their night home is a railway carriage. So with help from the dogs we "herded" them in the evening. They loved admiring themselves in a mirror set up by the wall. The chooks were mostly rare breeds, fluffy things, and they had a huge area to run around and although when their owners are there they wander around the gardens and even go into the house; we were asked to keep them in their fox proof runs, which we were pleased to do.
Then we had the horses. We had very specific instructions from the owner, the oldest daughter, and followed them to a "t". They each had their own bucket for the grain pellets and an order in which to stand. The thing that bothered them, poor dears, was the horse flies, even though they had special covers on them. In fact, those horse flies bothered me too, so I let Greg do the horses…he loved doing it.
Because we had dogs to care for, we didn't go out for long, but did manage to see some of the surrounding area.
Ludlow: more heritage properties than anywhere else in the UK; mostly timber framed. Comes with a castle, of course. There was a market in the square which was selling local produce, including Hereforshire cheeses and the best ice cream! So we stayed there longer than planned. Bromyard, another medieval town. Leominster (pronounced L'minster) is also a pretty town, and with a particularly good pub! Then there was Hereford. We had a voucher for Tesco. If we spent £80 we got £12 back, so finding a Tesco in Hereford was our goal…there are two. The first one we found was in the middle of the walled city, parking was underground, and the transit was too tall, so we found the other one two miles away, thanks to our Tom Tom GPS.
Ad. Article continues below.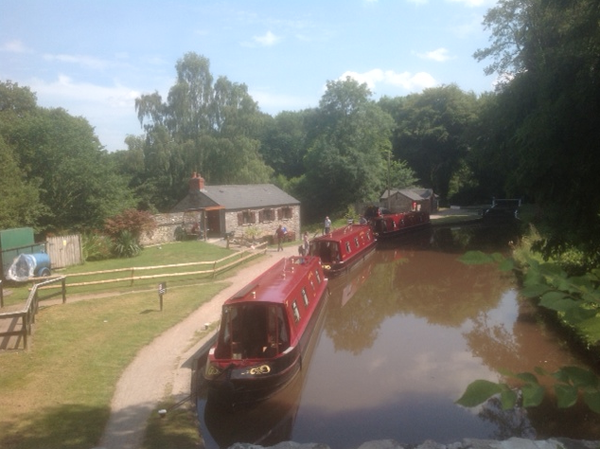 Since there were quite a few chooks, we were told to help ourselves to as many eggs as we wanted. So we had egg on toast, soft boiled eggs, scrambled eggs, omelette, plus the dogs each got an egg each morning. We were "egged out" by the end of the week! But we are now hooked on fresh free range eggs: so tasty.
Before we knew it, the family was back (to the delight of the animals). We took the dogs for a last walk and then decided to take a drive a bit further afield.
So we went to Hay-on-Wye, which is on the Welsh border. It's generally known as "The Town of Books", with over 30 book shops, most specialising in rare, hard to locate, or out-of-print books. The place was littered with them (the shops I mean!). This is book lovers heaven! It also has a sizeable number of quaint pubs. After a walk around, we drove on into Wales and Brecon, stopping to watch some families playing on the beach near the bridge over the Wye river. It was beautiful weather and I had a yen to sit by a canal and watch some narrowboats go by, so we drove along a road towards Abergavenny and found this gorgeous spot, quite by chance. Sat by a lock and watched the new hirers, about to head off for their Narrowboat holiday, learning how to work the lock, having a few laughs with them. Suddenly, no warning, the heavens opened up. I should have known! There we were, sitting in our camp chairs, nice cuppa from a flask, but this was Wales! Last time I was in Wales, I had a 13 week contract to teach at Aberystwyth University and during that time it did NOT rain on three days.
So we packed up, and returned to Herefordshire! No rain there and a really pleasant evening with our hosts. We both felt quite sad to leave the house, the family and their pets. One thing about being on the road: you are continually meeting lovely people and then saying goodbye. You try to keep in touch, but "life" often gets in the way.
Next stop – Cheddar, Cheshire!