All the facts on the Las Vegas shooting, the deadliest in US history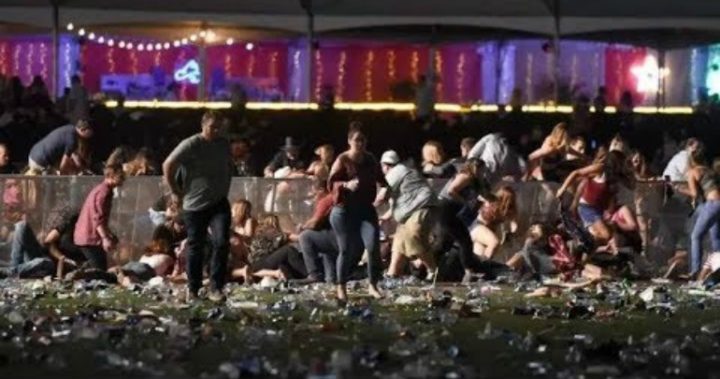 At least 58 people are dead and more than 500 are injured after the worst domestic shooting incident in recent US history, after a gunman opened fire from a 32nd floor hotel room on a 22,000-strong crowd of people attending the Route 91 Harvest Festival at the Mandalay Bay hotel and casino in Las Vegas, Nevada.
The victims outnumber the previously most-deadly mass shooting, which occurred on June 12, 2016, when Omar Mateen killed 49 people at The Pulse nightclub, in Orlando, Florida.
Here are the key details of the Las Vegas attack we know so far:
The gunman: Stephen Craig Paddock, a 64-year-old retiree from nearby Mesquite has been identified by police as the shooter. He has been described by police as a lone-wolf attacker, who had along history of high-stakes gambling. His reasons for carrying out the attack are as yet unknown but Paddock had more than 10 rifles in his 32-floor room. His brother Eric Paddock told NBC News that he was "dumbfounded" by the shooting.
"We're completely at a loss," he said. Another brother, Bruce Paddock, said that his brother had no history of violence prior to the attack. However, their father, Benjamin Paddock, was a bank robber who was once on the FBI's most-wanted list.
Ad. Article continues below.
The victims: America's ABC News and other reputable outlets said that at least 58 people had been killed and about 500 injured in the attack, which involved "non-stop gunfire" one witness told ABC. Two off-duty police officers are said to be among the dead.
Tributes have already been set up for some of the victims, with Sonny Melton, a 29-year-old from Big Sandy Tennessee, the first to be identified. The young man, who worked as a nurse, saved his wife, Heather Gulish Melton, by forcing her to run, when he was shot in the back, she told WZTV. The couple were at the concert to celebrate their first wedding anniversary.
Wife of Sonny Melton, Heather Gulish Melton: "He saved my life. He grabbed me and started running when I felt him get shot in the back." pic.twitter.com/yfdSFdC4rL

— Forrest Sanders (@WSMV_Forrest) October 2, 2017
Donald Trump's response: The US president called the shooting "an act of pure evil" and praised Las Vegas police and emergency services for their "courageous efforts".
Ad. Article continues below.
"The speed with which they acted is miraculous and prevented further loss of life," he said, according to NBC News. The president plans to travel to the city on Wednesday to pay his respects. He ordered the flags be flown at half-mast at the White House and a moment of silence held. He did not respond to reporters questions about gun control, saying only, "I know we are searching for some kind of meaning in the chaos, some kind of light in the darkness … The answers do not come easy."
But White House press secretary Sarah Huckabee Sander said it was "premature" to talk about possible legislation on gun ownership before all the facts of the mass shooting were known.
My warmest condolences and sympathies to the victims and families of the terrible Las Vegas shooting. God bless you!

— Donald J. Trump (@realDonaldTrump) October 2, 2017
Australia mourns with America tonight after shocking senseless attack in Las Vegas.

— Malcolm Turnbull (@TurnbullMalcolm) October 2, 2017
Ad. Article continues below.
The police: Clark Country Sheriff Joe Lombardo told the media that law enforcement believed Paddock was a solo attacker. He shot himself as police entered the room, and Lombardo said that police were confident that no threat of further attacks remained. He said that there was no evidence of a motive.
The Mesquite Police Department said that it had never had any contact with Paddock, who lived in a retirement village.
Meanwhile, Aaron Rouse, from the FBI's field office in Las Vegas, said there was no evidence that Paddock was connected to any international terror group, despite Islamic State quickly claiming responsibility for the attack, saying that Paddock had converted to Islam several months ago, the Los Angeles Times reported.
Media briefing with LVMPD Sheriff Lombardo on the shooting incident last night. https://t.co/3eUm4Ze30J

— LVMPD (@LVMPD) October 2, 2017
Ad. Article continues below.
Have you been to Las Vegas? Would you like to visit the city?
Ad. Article continues below.