Alan Jones rips into Scott Morrison over "betrayal of public trust"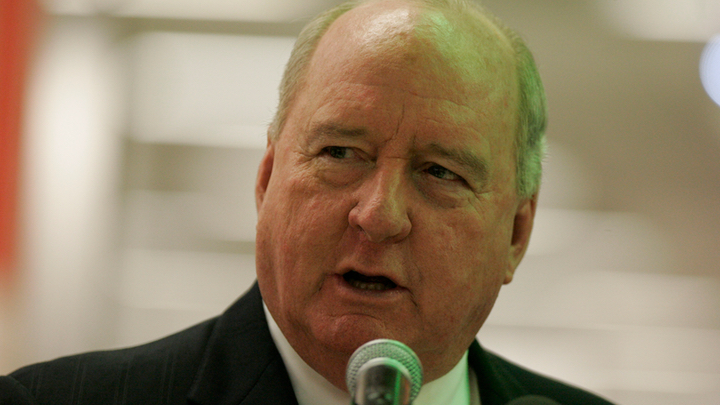 A lot of people over the years have caught the ire of veteran broadcaster Alan Jones. This time, he has set his sights on the Turnbull Government and more importantly Treasurer Scott Morrison for the "utter betrayal of public trust" when it comes to the foreign land ownership register.
Alan has long supported the idea of Australian farms being kept with Australian owners and didn't waste any time in attacking the Federal Government over the details of the long-awaited register as they are set to be released to the public.
The register shows that Britain, the US, and the Netherlands are the three biggest foreign investors in Australian farming land. China, who is the centre of the foreign investor claims, is fifth on the list with 1.46 million hectares of farming land.
While the government believes they are keeping up with their 2013 promise of "transparency in Australian agriculture" Jones believes it's nothing more than another broken promise from the Coalition.
On his radio show, Alan stated "We were promised a national agricultural land register," before adding "All we've got is a travesty." Alan continued "…And we're told that this will show we've got nothing to worry about because foreigners only own 13. 6 per cent of agricultural land and Chinese outfits own less than 1 per cent of farmland.
Ad. Article continues below.
"Now if Scott Morrison and the government believe that this sort of bland whitewash will satisfy public concerns then they are kidding themselves.
"The register doesn't even begin to deliver what was promised and what was promised was we would be able to identify who owns what – it only provides an overview and a data trend about overall levels of foreign ownership."
While a spokesperson for the Treasure assured everyone that the government met its commitment and that the "Greens and the Labor Party supported the passage of this bill through the Parliament and the consultation paper recognised that there are privacy and commercial issues which limit the information that would be made public". Alan believes otherwise.
"Agricultural Minister Barnaby Joyce assured Parliament in September last year the register would be like a map, quote '… to see who owns what' – Barnaby Joyce's words," Jones said.
"What you are being told today is an utter betrayal of public trust. Scott Morrison, you are again on notice – what are you trying to hide?"
Do you believe that the Government is trying to hide something? Or is this a case of Alan rallying the audiences against the government?