Alan Jones reveals his terrifying hospital ordeal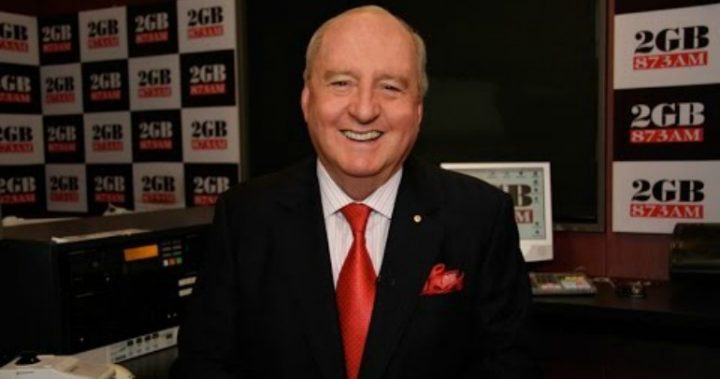 In a Facebook post last week, radio host Alan Jones told his fans that he was in hospital and recovering well from a nasty bug.
What he didn't tell everyone was just how close he came to death.
Chris Smith covered for Jones on 2GB this morning, but Jones couldn't resist a phone call to keep everyone updated.
Read more: Alan Jones back in hospital with serious health scare
He admitted it was "a near miss" for him after falling ill last week.
Ad. Article continues below.
Though he was sweating and shaking uncontrollably, Jones didn't want to bother his doctor, who he said had suffered a recent death in the family. However, he gave in to good sense when the situation became "diabolical" and he was admitted to hospital.
"I must have been dozing and I thought I heard someone say something about a pulse," Jones told Smith. "And I woke up and there were eight doctors around the bed."
The doctors told Jones his blood pressure was too low and they were "struggling to find a pulse", so Jones was ushered to intensive care, where he spent a few days battling a temperature of nearly 40 degrees.
When Jones asked his doctor later about the pulse comment, his doctor told him, "What it really means is you were at the exit door."  
Jones's illness was finally diagnosed as septic shock from E. coli, an issue that had "nothing to do" with any of his recent health problems. The talkback star went off-air last November for serious back surgery after spending most of last year in intense pain. 
Ad. Article continues below.
When asked if he was worried during his latest health-related incident, Jones shrugged it off.
"I think you'd probably just go over the edge if you were worried," he said. "I've got very good doctors."  
Thanks to the quick work by Jones's medical team, he was on the road to recovery by Thursday afternoon and is now resting at home, but he's "under watch".
"I do have to cut back on my workload," Jones admitted. "It's easier to say than do."
Read more: Alan Jones's Sydney apartment to sell for nearly $5 million
Ad. Article continues below.
If Jones's health continues to improve, he will be back on air by next Monday. However, he couldn't resist getting in a few words about politics.
Most of the 15-minute phone call was spent railing against global warming and the state of Australian rugby (league AND union), and demanding that Tony Abbott be reinstated as the leader of the LNP.
Do you think Alan Jones needs to lessen his workload after all these health scares?