Alan Bond in critical condition after heart surgery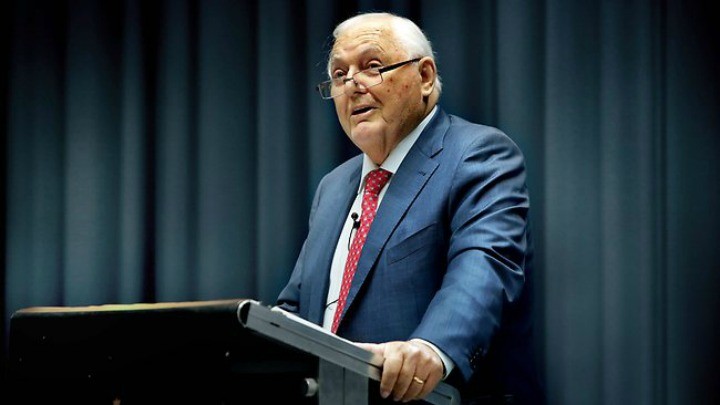 Love him or hate him, spare a thought for Alan Bond today, who is in a critical condition following open-heart surgery on Tuesday. The business tycoon has been placed in an induced coma and his prognosis is uncertain.
his ex-wife Eileen Bond and his children have all flown to Perth to be by Mr Bond's side.
"We're praying and hoping that he pulls through this," Eileen Bond told AAP. "It's not looking good at the moment".
The 77-year-old was living in London but returned earlier this week for triple-bypass surgery to replace a valve that was previously replaced almost 20 years ago. He also required repairs to two other valves in his heart".
His children John, Craig and Jody, released a statement saying, "We are told his prognosis is at best uncertain.  He is in an induced coma and is receiving the best of care".
Ad. Article continues below.
Alan Bond was one of Western Australia's most prominent business figures throughout the 80s. He  was also one of the nation's largest brewers and set up our first privately funded university.
Another great contribution Mr Bond made to Australian history was winning the America's Cup in 1983, which broke the United States' 132-year stranglehold on the title, and ended the longest winning streak in the history of sport.
In 1987, Bond made history again when he bought Channel Nine rom Kerry Packer for $1 billion, however he was forced to sell the network back to Mr Packer for a pittance in the early 90s before going bankrupt and winding up in jail for his involvement in the collapsed Rothwells Bank.
Mr Bond was acquitted after an appeal but jailed again for art fraud, then embezzlement. The ABC reports Mr Bond was bankrupted for $622 million, which still stands as the second-largest personal bankruptcy in history.
All went quiet for almost 20 years until Mr Bond once again made the Rich List in 2008 with a personal fortune estimated to be worth $265 million.
Ad. Article continues below.
There are still legal matters outstanding involving Mr Bond's company the Bell Group.
How would you describe "Bondy's" contribution to Australia?