Aged care home that "tortured" 89-year-old has shock audit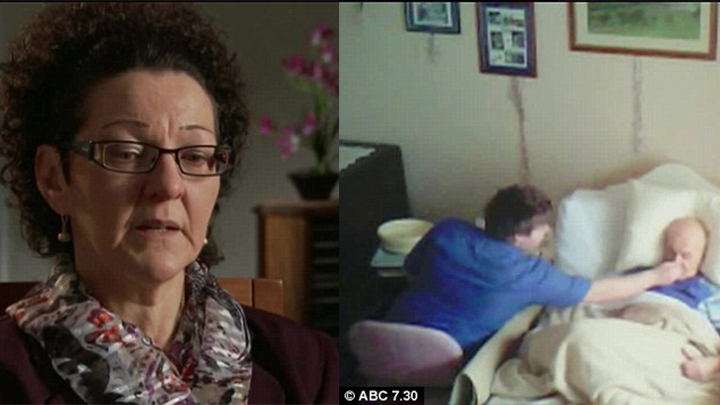 If any facility meant to provide services to care for people isn't performing to the best of its ability, you hope for action against it, or that the wrongs be rectified.
Sadly, for Noleen Hausler and her father,justice seems to have failed them, as she revealed that she is 'disgusted' the centre has earned full marks on a federal audit.
Last month, it was reported that Noleen had decided to install a camera in her father Clarence's room at Mitcham Residential Care in Kingswood, Adelaide to "confirm her suspicions" he was being mistreated.
The disturbing footage showed carer Corey Lyle Lucas, who appeared to force feed Clarence violently, eat Clarence's food, sneeze on him, flick his nose and held him down when Clarence fought back. The video also showed Corey apparently trying to suffocate Clarence with a napkin.
The centre has since had its accreditation extended for two years after scoring 44 out of 44 on a review by the Australian Aged Care Quality Agency,The Advertiser reported.
Ad. Article continues below.
The review stated the staff development, education, leadership and specialised nursing care standards were all met.
Since the video emerged of her father's mistreatment Ms Hausler has been campaigning to allow concerned families the right to legally install cameras at aged care facilities.
Her Change.org petition has more than 42,500 signatures.
"Dad's now 90, he doesn't have that much time left and we need action now, not more paperwork," she said.
A spokesperson from Mitcham Residential Care said they were "shocked" to hear about the incident and said it was a "rogue" act.
Ad. Article continues below.
"As soon as we became aware of the incident, the individual was immediately suspended and we have assisted with the police investigation which has since led to a conviction," the spokesperson said.
Ms Hausler said her father moved into the facility in 2002 and received fantastic care before it was taken over by a subsidiary of Japara Healthcare.
'They were cutting costs so the less expensive options was what was going to be available,' she said.
According to its website, Mitcham Residential Care provides patients with 24-hour registered nursing care from "caring, committed and compassionate staff".
What do you think about the results of this audit? Do you think the facility deserves a second chance, or should it have faced harsher consequences?