Actor Samuel Johnson reveals the dark truth about his childhood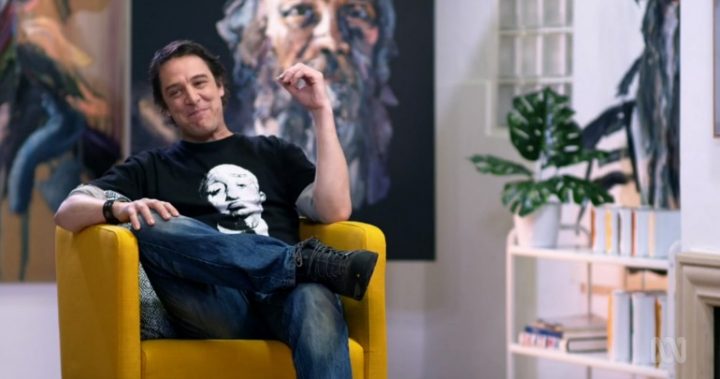 You might know Samuel Johnson for his award-winning portrayal of Molly Meldrum in the eponymous 2016 mini-series. Or you might know him for his constant battle against his sister's cancer.
But it turns out that's only the tip of the iceberg when it comes to the actor's tragic past.
Johnson appeared on an episode of Anh's Brush with Fame, during which comedian, author and artist Anh Do paints a celebrity while learning more about their life.
During the episode, he shocked Do to the core, revealing hard truth after hard truth.
Johnson's family home burnt down just two weeks after his birth, and his mother committed suicide when he was just three years old.
Ad. Article continues below.
Johnson admits that he was probably too young to understand how the death truly affected his family, but says his mother suffered from many psychoses and had tried to commit suicide "countless times".
"By the time she eventually succeeded, I'm told there was a little bit of a relief for her," Johnson says. "According to my older sister, it was probably best that I didn't grow up with her."
Johnson describes his father as "a phenomenal man" who raised a son and two daughters with equal measures of strictness and sensitivity.
"I don't remember hardship," Johnson says. "I just remember the value of not being able to get everything you want."
Being partially deaf has helped Johnson become a good lip reader, and it was with this skill that he first realised something was wrong with his sister, Connie.
Ad. Article continues below.
Angry that his father was running late, worried that he would miss his tennis lesson, 10-year-old Johnson was confused when the family car pulled up in the driveway and Connie looked despondent. Their father told Connie to wait in the car before walking inside the house and beginning to cry.
"He was curled up on the couch in the foetal position sobbing. Just weeping. Just bawling."
Diagnosed with a rare form of bone cancer when she was just 11 years old, Connie managed to recover. She was diagnosed with cancer again at the age of 22 and has been fighting it ever since.
Despite the continual difficult revelations, Johnson remains positive and charismatic throughout the interview, even managing to laugh off and downplay the severity of his drug and alcohol abuse.
It's only when the interview turns to his love life that he begins to truly struggle.
Ad. Article continues below.
Johnson reveals that, in 2006, his girlfriend hanged herself.
"It's probably my life's biggest sadness," he says. "You know how they reckon that you come to terms with your grief as you go along? Not with this one."
It's a loss that Johnson feels "more profoundly" than the loss of his mother.
Johnson is adamant that he's not a victim, despite everything that's happened to him and his family. It's this mentality that has kept him going for years, and this stoicism is what Do strives to capture in his artwork.
Johnson wasted no time deciding what to do with it: the portrait will be auctioned off, with 100 per cent of proceeds going towards cancer research through his sister's foundation, loveyoursister.org.
Ad. Article continues below.
You can watch the full episode of Anh's Brush with Fame on ABC iview until August 4.
Did Samuel Johnson's story surprise you?