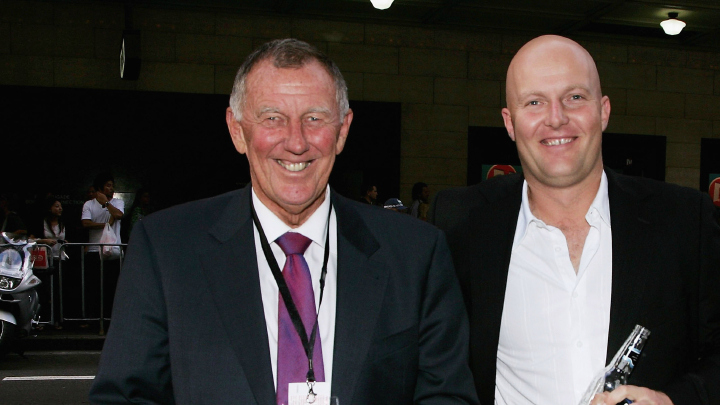 Australian entrepreneur John Singleton has been caught on camera in a drunken biffo with his mates at a fancy Sydney restaurant. The incident, which occurred after a long lunch at Kinsleys Steakhouse at Woolloomooloo, saw Singo brandishing a broken wine glass, as reported in Daily Mail Australia, at his friend of more than 40 years, Jack Cowin.
The millionaires (Cowin is the owner of Hungry Jack and worth more than $900 million) had spent three hours over a long – and boozy – lunch, and almost came to blows over slur about drinking rose wine instead of beer.
After lunging at his mate and being restrained by restaurant staff and fellow diners, Singo reportedly ran around shouting about how he loves violence. Diners were shocked as, quite frankly, he made a git of himself.
A witness told the Sydney Morning Herald: 'Singo really lost it, I think everyone was pretty shocked by what they saw.'
New post: " Advertising legend John Singleton 'lost it and lunged at fellow multi-millionaire mate' Jack Cowin wi… http://t.co/GN4iS8CImv

— Lee Levy (@thekingleelevy) May 11, 2015
Ad. Article continues below.
It's the kind of thing you could imagine happening between a couple of 18-year-olds in the pub. Or between two boys in the playground at school.
But John Singleton is not a young buck. At 73 he has a long and respectable business career, having made a huge impact on the Australian advertising industry. Sure, he's known for being a bit of a larrikin, once buying drinks for the entire Rosehill Racecourse after his horse won the Golden Slipper, but enough's enough.
Just last week the Queensland Homicide Victims Support Group held its One Punch Can Kill awareness campaign in an effort to encourage people to think before they throw their fist. As a prominent elder in Australian society, we would expect someone like John Singleton to set a good example and show a little more decorum.
Mr Singleton recently cut a $200 million deal with Fairfax Media on his radio assets. He has seven children from six different marriages. Neither he nor Cowin have commented on the incident or reported it to police.
Do you expect someone like John Singleton to set a better example in society?