Abbott slammed over "love thy neighbour" speech. See what the world has to say...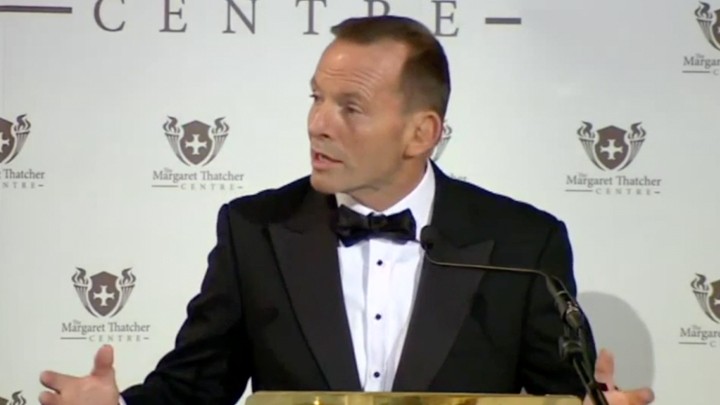 Tony Abbott's first major speech of his new public speaking career was divisive to say the least.
Speaking in London, he warned Europe it was making a "catastrophic mistake" by allowing asylum seekers in, suggesting the Christian teaching to "love thy neighbour" was in this case misguided.
"No country or continent can open its borders to all comers without fundamentally weakening itself", he said.
According to The New Daily, his comments are now drawing harsh criticism from some of Australia's most prominent catholics.
Former Bishop Pat Power told Fairfax he was "ashamed that a former Australian PM would be putting out a message like this".
Ad. Article continues below.
"People will make their own judgments but that's completely at odds with what's at the heart of Christianity," he said.
Malcolm Turnbull, when asked about the speech, avoided a direct answer. "He has obviously had a remarkable career in public life including two years as prime minister and we owe him a great debt for that," he said.
On the other hand, Liberal senator Cory Bernardi, who helped arrange the gig for Abbott, was full of praise.
"I thought it was a really interesting speech, I thought it was a landmark speech and I think Tony Abbott did us proud last night," he told Sky News.
Bill Shorten, not surprisingly, was not a fan. "I'm not sure that Tony Abbott on a victory lap giving a Margaret Thatcher lecture is exactly what Europe needs to solve its problems", he said.
Ad. Article continues below.
Richard Di Natale, leader of the Greens, suggested "the only catastrophic error that Europe has made is giving Tony Abbott a platform to speak".
But it was Twitter, as usual, had some of the most pointed and blunt comments.
See what the Internet had to say below, and tell us: do you agree with Abbott, or his critics? Is it his place to lecture Europe on immigration? And is he right to reference Christian values?
The brazen hypocrisy of Tony Abbott, an immigrant who came to Australia merely for a better life, tells Europe to reject refugees by force.

— Marion Groves (@MarionGroves) October 27, 2015
Ad. Article continues below.
Tony Abbott still making a fool of himself and embarrassing Australia. His obsession with pushing people in need away is beyond belief.

— Sarah Hanson-Young (@sarahinthesen8) October 27, 2015
That's the thing about a Tony Abbott gig, no annoying stuff off the new album just the classics… #internationalBoatStopper

— Wil Anderson (@Wil_Anderson) October 27, 2015
Tony Abbott's speech overnight is beyond words. Recommending Europe "stop the boats" in relation to people fleeing ISIS. Just unbelievable.

— Peter van Onselen (@vanOnselenP) October 27, 2015
Ad. Article continues below.
only good thing about the Abbott speech is that no-one in Europe seems to have noticed it happened. Not even in Aus section of BBC app

— Antonia S. Mochan (@antoniam) October 27, 2015