Abbott, Hockey, and the height of arrogance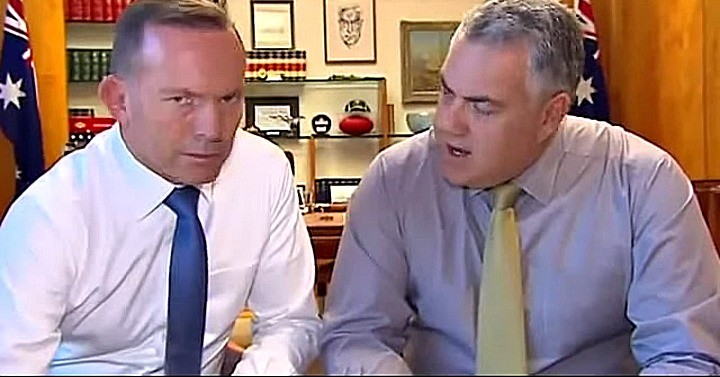 Right now Tony Abbott, Joe Hockey, and indeed the entire Liberal front bench are boycotting the ABC show Q&A. But not so very long ago, they were strongly anti-boycott.
In 2012 radio personality Alan Jones caused a stir when he said that then PM Julia Gillard her father had "died of shame over his daughter's lies".
Mr Abbott, then Opposition leader, labelled Jones' comments "wrong, unacceptable, offensive. It's very important that we conduct our political debate in civil language".
Though he criticised the comments, Abbott continued to appear on the Alan Jones program, saying:
I am certainly not going to ignore an audience of half a million people in Sydney.

We don€'t run jihads against the people we don'€™t agree with. We simply take the ordinary course of action open to us. If you don't like The Sydney Morning Herald, you don't buy it. You don't run a jihad against it. This is the problem. I mean, in the end, in a robust democracy – there's got to be a range of views. We will better come at truth the more vigorous the debate is beforehand and I just think there is a real problem at the moment with trying to shout down people who you don'€™t agree with.
Ad. Article continues below.
But the Labor party did not appear on the show. Labor MPs did not appear on the Alan Jones radio show for six months.
Mr Hockey said labelled the boycott "the height of arrogance to say you're going to boycott some sort of radio show that has an audience of 5, 6, 700,000 Australians.".
Cut to the present day, and the Prime Minister has issued a blanket directive that his front bench not appear on ABC's Q&A TV show. Coincidentally, Q&A is watched each week by almost 800,000 viewers.
Do you think EITHER political party is wrong to boycott ANY media outlet? Is a boycott just a convenient way to control any debate over any issue?