A windy road to Venice [Backpacking over 60]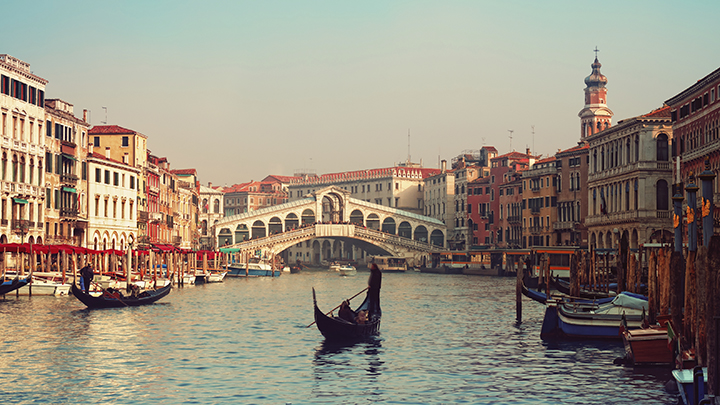 This is the ninth instalment of Libby's journey backpacking through Europe with her husband… To read her previous post, click here
Hello Italy
It was a bit overcast until we hit the Italian Alps and skies began to clear. All along this section of the highway there is evidence of where they are trying to stabilise the side of the mountains to stop boulders, trees and dirt falling onto the roads. We were driving through endless tunnels and every so often you had to swipe your toll card. Streams/rivers run along side of these roads and it is obvious they have come from way up high by the colour of the water. At one river/stream there was about 15-20 people swimming, sunbaking on the rocks, and they had a massive table set up for food – they looked to be having a ball. I bet that water was cold even though the day was warm. The higher we climbed the bluer the sky became.
We're starting to leave all that behind and before we knew it we were in Venice!
Ad. Article continues below.
Oh Venice, what can I say? This is a beautiful place to get lost in and we did regularly.
We found places I don't think would be on the tourist routes. Tiny little winding streets with washing over canals. Dead ends that lead to water.  A church ground where some ladies had set out a big rug and they were all getting food out of shopping bags so they could have lunch.  They indicated we could join them, which we did. When we left them, around the next corner we came across one of the main canals where we caught a water taxi to the Piazza San Marco; this is very much a tourist are. We spent some time here and in some of the little shops around this area.What amazed me was the Ferrari shop. The shop had a full sized car in the shop. It had to have been assembled in situ as the streets were lucky to take two people abreast never mind a car.  The shops were full of the beautiful masks, fans and lace work that venice is known for. It was getting late and it was time to look for somewhere to sleep. We caught a ferry to the main transport area and headed over the water to find a hotel. We found one, the first in our travels that had air conditioning!
After we had checked in, we went for a drink at the bar and while sitting there a tour bus pulled in. I felt so sorry for the people: the tour guide was very efficient and very bossy. We had seen her at the Piazza and all the poor people were following her and she held a number on a board above her head so all could see her in the crowds.
Ad. Article continues below.
For many people this would be the way they prefer to travel, and good for them. These poor people arrived well after us and were up and gone before we had even surfaced.
That evening we went to a restaurant recommended by the hotel just across from the hotel. After we sat down we found out it was a seafood place: I'm allergic to seafood!
We had fun trying to order and the poor waiter couldn't understand what we were saying.
In the end we managed and all food was brought out as it was ready, so we learnt to eat as it arrived. We did well as some of the dishes were vegetarian and some meat! The waiter earned his tip that night.
Have you ever travelled to Venice? If not, would you rather travel with a tour guide or on your own?