A tattoo or plastic surgery for Judy Dench...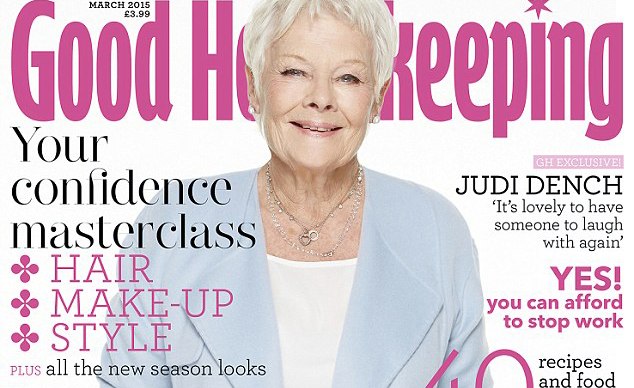 Dame Judy Dench is tempted to get a tattoo and plastic surgery according to one report from her feature article in this month's British version of Good Housekeeping.  But gosh she has waited a while to be tempted.  The 80 year old widely acclaimed actress and film star is the cover feature of this month's magazine in which she is quoted as saying that she'd love to go into surgery right now and come back with completely smooth skin, but she's far too squeamish.   It has us asking if you feel the same way? If you could would you get a tattoo or plastic surgery?
The Daily Mail reported today that the actress said: 'I don't think I'm vain enough. It's not that I don't mind the lines, because I do, but just not enough to do anything. My agent would go barmy. I'd do myself out of the parts for old people.'
Judy has come out in the magazine and deplored that the words "eight-o" and "retire" are banned in her house saying she is driven made by people in her life asking her to slow down.  We love her vigour.
'The thought of putting my feet up doesn't appeal at all – no no, no!,' she said.
'I've got plenty of time for that at weekends or on odd days off. The prospect of no work on the horizon makes me a bit edgy. I have no particular ambitions – I just want to be employed!'
Ad. Article continues below.
When discussing her 80th celebration she said that she was even keen to get an inking to mark the occasion.
The Daily Mail quoted  her as saying: "I am tempted to have a tattoo to mark my birthday. Finty's [her daughter] very keen on me having one. There's an Indian symbol that I like which supposedly represents life and love and everything". But she didn't as she was a bit worried she was being set up.
It is refreshing to hear from public figures making eighty feel young and to see people participating so vibrantly in the workplace, superstar or not.  But Judy Dench's life has been just like so many, facing the tragedy of losing the love of her life.
Judi Dench lost her first and only husband in 2001 to lung cancer.  She and Michael Williams were married for 30 years.
"For 30 years, I was divinely happy with Michael. I love the company of being in a relationship – I'm no good on my own," she was reported as saying in the article.
Ad. Article continues below.
She speaks of her romance with David Mills with warmth.  "It's lovely to have someone to laugh with again: David has a heavenly sense of humour.  He laughs at exactly the same things as I do. "
'Humour is the most important thing. If someone can make you laugh, even in the middle of the most terrible time, it's wonderful.'
image source: Nicky Johnson/Good Housekeeping – promotion only.