Featured Village: A new view of retirement at Aveo Derwent Waters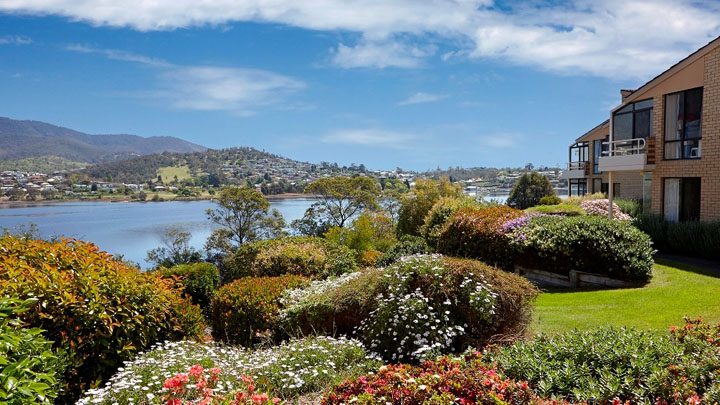 With sweeping views of the Derwent River and equally majestic vistas of Mt Wellington, Aveo Derwent Waters is framed by nature's beauty. Aveo Derwent Waters is a retirement living community built on a foundation of independence, great friendships, wonderful care and an environment of warmth and inclusiveness.
Conveniently located approximately 15kms from the heart of Hobart, residents find the famous Salamanca Place is their happy hunting ground for morning and afternoon tea trips, gift buying, gallery visits and casual walks around the pier. For day-to-day needs, Claremont Village Shopping Centre is just a short stroll away with everything from a post office to a supermarket. Every Monday and Thursday the village bus travels to the local shopping centres and every Wednesday, to the centre of Hobart. There are leisure activities nearby too; within close radius are a bowling club, Claremont Golf Club and the local tennis courts (for those who still enjoy a hit). In this perfect setting, friendships flourish over shared activities and life is enjoyed at a relaxed pace.
Aveo Derwent Waters is a breath of fresh air for residents and visitors alike, with the big, bright community centre as the social hub and hive of activity.  Arts and crafts is a popular pastime for some, while many other outdoor and indoor activities are always on the go. Simply, you can be as busy or relaxed as you choose. Village amenities include a well-stocked library, bowling green, billiard room, indoor heating swimming pool and a workshop.
Ad. Article continues below.
Every aspect of living here has been thoroughly considered from the beautifully landscaped grounds to the tranquil courtyards and myriad of paths and gardens that spread all the way down to the river. Adding to the contented atmosphere is the opportunity to dine well daily. The chef-prepared meals prove to be a real hit with residents who love food and formal dining, from tasty home-cooking to grander menus on occasion.
Accommodation is in a range of spacious two bedroom Independent Living Residences which offer everything needed for a happily self-sufficient lifestyle. One bedroom Serviced Apartments are also available which offer a range of additional services such as daily meals, and weekly domestic cleaning and linen. Most units offer uninterrupted, 180 degree views of the spectacular Derwent River. For added peace of mind, each residence is fitted with a 24-hour emergency call system and the attentive village staff are happy to keep an eye out for everyone.
Residents enjoy being part of this vibrant community, meeting like-minded people and having the freedom to do as they please.
To learn more about the retirement lifestyle you could enjoy at Aveo Derwent Waters, head to the Aveo website by clicking here.