A horrific reminder that terrorism is a very real threat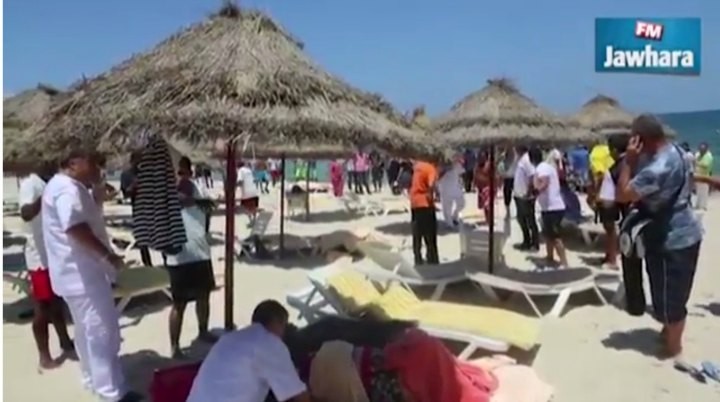 This morning, Australia wakes to a stark reminded that the threat of terrorism is real. Overnight tourists were gunned down as they lay on sun-loungers at a popular resort in Sousse, Tunisia. This is the second attack on the progressive Arab nation in four months. In March, an Australian was killed during an attack on a museum.
It is believed two gunmen co-ordinated the attack, one hiding an AK47 in an umbrella as he strolled onto a beach disguised as a tourist and began gunning down his victims.
At least 37 people have been killed, including people from Britain, Germany and Belgium. So far there are no reports of Australians or New Zealanders among the confirmed dead.
Ad. Article continues below.
Reuters reports that Islamic State has released photos its claims is one of the killers.
Meanwhile IS has claimed responsibility for a suicide bomb attack in Kuwait that has killed at least 25 people, and there are emerging reports at least 145 civilians were killed by IS militants in northern Syria on Friday.
IS had urged followers to engage in acts of violence during the holy month of Ramadan. The attack in Tunisia would have hit mostly tourists as faithful Muslims would be unlikely to be at the beach during this time.
The violence doesn't end there, unfortunately. In a gruesome event in France, the head of a businessman was painted with Arabic writing and left on the gates of a a gas factory in Saint-Quentin Fallavier, near Grenoble, in eastern France on Friday. One other person was injured when a car drive into the building, in what is assumed to be an attempt to make the building explode.
"If the early reports are true, this is another horrific reminder of the brutality of these terrorist organisations that are attacking civilians in a most violent and barbaric way," Julie Bishop told reporters in Melbourne.
Ad. Article continues below.
"It is a grim reminder of the horrific nature of these terrorist attacks and we must be ever vigilant to ensure that this doesn't happen in Australia."
While all terrorist attacks are abhorrent, targeting unsuspecting tourists is a sure-fire way to spread fear and hatred widely throughout the world. We are entering peak travel time in the northern hemisphere and sincerely hope there is no more violence.
Tell us, are your shocked by this latest attack on Tunisia? Does terrorism play on your mind when planning your holidays?