A home away from home [Backpacking over 60]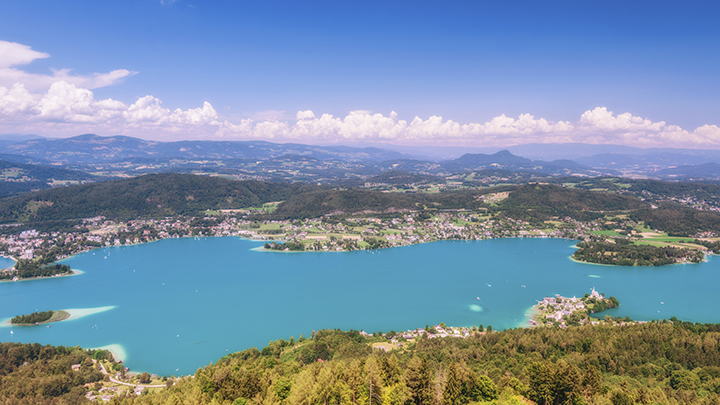 This is the eighth instalment of Libby's journey backpacking through Europe with her husband… To read her previous post, click here
Hello Velden
We drove for about four hours and found Velden right on the shores of the most beautiful lake.
What a beautiful place with a real laid back festive feel! People were everywhere and dressed beautifully and enjoying the restaurants, ice creameries, and watching a massive screen set up in the centre of town for the World Cup. There were plenty of walkways along the lake and you could sit and just watch the world go by. It obviously is a very popular holiday area, but it was getting late and we needed to find somewhere to stay.
It didn't take very long to find a picture perfect B&B. It had wisteria growing along a pergola with seats underneath. The views were of the lake and mountains way in the distance. Inside was all white furniture with floral upholstery fresh flowers were everywhere. The room was a two-bedroom with a sitting room dividing them, again the views from our room were breathtaking. What a difference a four-hour drive can make from the centre of a bustling city, to a little piece of paradise. The cost was the same as a hostel in Vienna!
Ad. Article continues below.
We needed dinner and the hosts recommended a small family run restaurant about a five-minute walk down the mountain; they didn't let us down. Since we were Australian, the owners ran around us all night. They spoiled us and made us try this and try that; we had a ball.
The next morning when we woke up and got ourselves ready to leave it was about 10am. We were just going to leave as it was quite late for breakfast and we didn't want to put our hosts out!
No way would they let us leave without breakfast; they had actually kept their kitchen open until we surfaced and ran around us and kept making sure we had had enough to eat and drink. When we left we were given a BIG hug from the wife, a pat on the back from the husband, and wished a safe trip in broken english.
We packed the car with much advice from said hosts as we only all had backpacks and that didn't take much time. We were on the road again and guess what? We got lost! After about 15 minutes of me turning and turning the map around until I was fairly sure it was in the way we were going, we hit the highway.
Have you travelled to a home away from home? Or have you stayed in a cosy B&B? Tell us more about your experiences below!