A holiday from the holiday are a ferry to the Emerald Isle! [Rogue Nomads]
This is part 22 of Dee's grey nomad adventure around Europe. To read her previous instalment, click here
We enjoyed ten days in Swindon with friends, getting the Transit's MOT Certificate, and trying to get a replacement window for the caravan. Greg had dashed round from the back of the van and his shoulder hit the open window, ripping it from its fixings. Hurt his shoulder too! Cost to replace: £400, and that's just the smallest window. A front window on a modern caravan? £1200. Then realised we are insured so panic over. Almost.
We planned trips to Bath, Stonehenge, Avebury. Swindon is pretty central for these sights. But it rained, a lot. So the only tourist spot we saw was what the locals call the "Magic Roundabout". This is the scariest road junction we've ever come across, being several mini roundabouts around one big roundabout, and as long as you give way to the right, you can go in any direction. There's even t-shirts printed with "I survived the Magic Roundabout" on them. The boys went fishing. Means us girls could have some quiet time. How can two grown men make so much noise?
Before we knew it, it was time to drive to Holyhead in Wales, to catch the 2.30 am ferry to Dublin. I am wondering what possessed me to choose that time, but I think I thought it would save us a night's camp fee, plus the ferry fee was cheaper. We were 10 hours early, so crashed out in the long term car park until 9.00 pm when we went to queue up. Slept until 1.30 am and nearly missed the ferry! This was the biggest ferry I've ever seen, with several decks for trucks and just one for cars and caravans.
Ad. Article continues below.
Arrived in Dublin at 5.30 am after a sleepless crossing and no Euros on us, as we'd forgotten to change some money! So keyed "no tolls" into the GPS, which meant we would be going through the centre of Dublin rather than the toll ring road….easy at that time of day. And Dublin is a "fine city" at that time, too.
We arrived at our first caravan park, in Ballykeery, near Athlone, in the west. Nice little site by a lake. Had a laugh when, "Where ya from"?, asked the manager (Irish) of the caravan park. "Australia", says Greg.
The manager says "to be sure, you can help me with something?" He rushes back into his cabin and brings out a toy boomerang. "How do you work this?" He asks…
He meant it! So Greg showed him! Told him it was easier if you stood on one leg.
Does anyone else find that funny or is it just my warped sense of humour?
Ad. Article continues below.
We wanted to go to Clonmacnoise Monastic Village, so off we went the next day. The guided tour brought the place to life. The Irish guide was easy to understand, you have to "tune in" to the Irish accent, which always seems to come with a twinkle in the eyes.
Clonmacnoise is one of the greatest medieval Irish monastic sites. Although founded by St. Ciaran in the 6th century, its heyday was between the 9th and 12th centuries, as royal money was poured into it to support workshops, sculpture, metalwork and manuscripts. The guide told us that it is still firmly believed to this day that if you are buried in the grounds, you go straight to heaven. They've had to extend the graveyard and even the extension is fully booked! This site is famous for its round tower and the High Cross, which is housed inside the museum now with a copy outside. You can still see the intricate carvings on each side. There is also a small area in the graveyard on the ground with water in the rock, about the size of a soup bowl. This water is said to be able to heal warts. Apparently it still gets visitors dipping their hands in the water…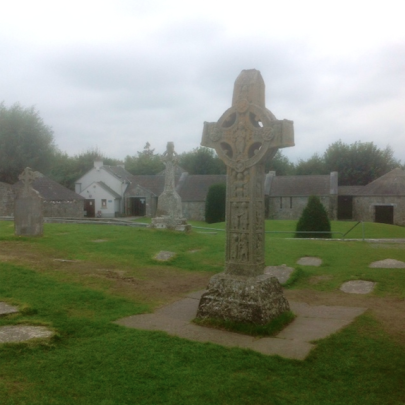 I was fascinated by all the peat bogs around, and we were told there was a nearby bog which had a visitor centre explaining what the process is. So we headed off in that direction. But being distracted is common for us, and Greg saw a sign saying "Clonony Castle", so quickly reversed and parked on the grass nearby. As we walked in we saw a gardener and suddenly realised this is someone's home! Oops!
However, he said he'd ask the owner, a tiny woman, and she invited us in. Her name is Rebecca Armstrong, an ex-ballet dancer, and she and her husband bought the castle, a Norman Tower House, 10 years ago, and she has been living in it for the past 18 months while continuing with restoration work. She showed us around, even went up the very scary spiral staircase and gave us a potted history.
Ad. Article continues below.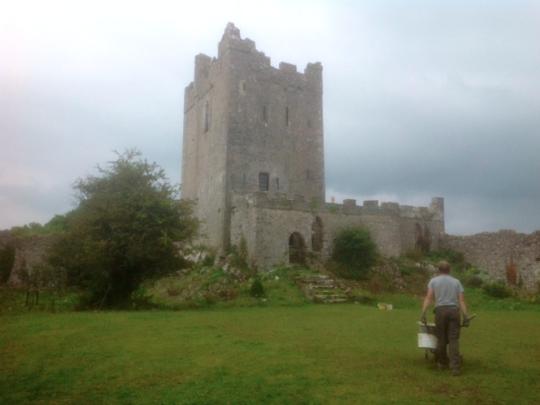 It is a Tudor castle built by the MacCoughlan clan in 1500 and is where the firing of muskets was first practiced. In the early 17th century, the castle was assigned to King Henry VIII who, in turn, handed it over to Thomas Boleyn and made him Earl of Ormond. The reasoning behind this was to win the hand of his daughter Ann in marriage, as this made Ann a countess. Two cousins of Queen Elizabeth I – Mary and Elizabeth Boleyn – spent their lives at the castle and are buried underneath a hawthorn tree in the grounds. Story goes that it wasn't just Ann that was beheaded; her relatives and maids were, too.
During Cromwell's invasion of Ireland the castle remained relatively untouched but was left abandoned and fell into ruins in parts. Rebecca is now continuing with the restoration virtually singlehanded. An inspiration to all.
There are many of these Tower Houses dotted about Ireland…mostly ruins, and this is a classic, with a spiral staircase, mural passages and a murder hole, where bodies of the dead were left to rot.
Oh and yes it has the requisite ghost, seen by many; a tall, thin man standing on top of the tower, wearing old-fashioned clothes and surrounded by a strange luminous mist. Weird lights and unusual sounds have also been experienced by many visitors to the castle.
Peat bogs will have to wait!
Have you visited these areas before? Have you braved the Magic Roundabout? Tell us below!