A drive through a gorge to get to the cheese! [Rogue Nomads]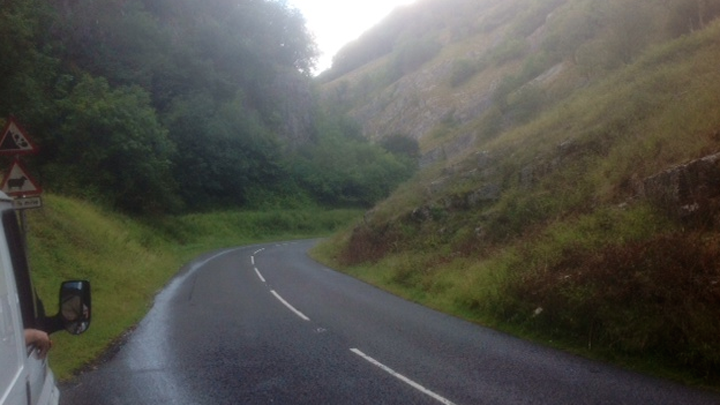 This is part 18 of Dee's grey nomad adventure around Europe. To read her previous instalment, click here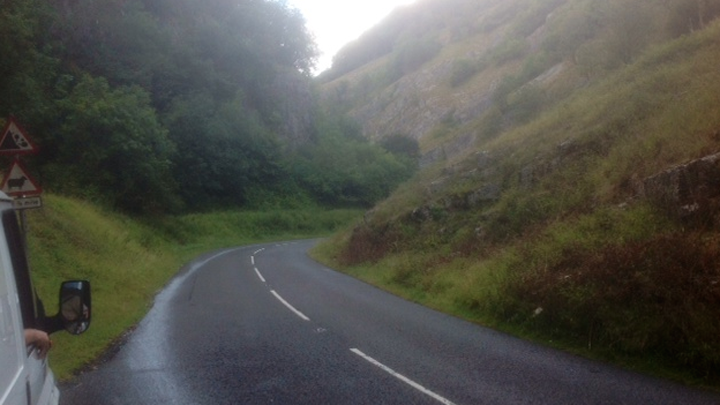 Where we accidentally drive through a narrow gorge with the caravan, and see a different sort of town!
Easy driving, if boring, heading to our next stop: Cheddar. Famous for its cheese, which isn't made there any more. Our GPS coordinates were duly entered for the little caravan park we had booked, and of course…it's set for quickest route! So, when we found ourselves driving down a very steep, narrow hill and then I realised that each side of us was getting more and more sheer, upwards, it dawned on me that we were driving through Cheddar Gorge! Down, down, down, with the sides of the gorge towering above us. Stunning to look at but we had to concentrate on not hitting anyone – tourists wandering across the road and tour buses all cramming the road and being distracted by the scenery. And Cheddar itself, once a sleepy little town, now full of souvenir shops and the people that buy their wares (good fish 'n chip shop though).
Cheddar Gorge is, so they say, the finest example of a limestone gorge in Britain, and its cliffs support many valuable semi-natural habitats, home to a wide range of plant species, many of them rare. At the lower end of the gorge are two show caves which together attract half a million visitors a year, and I think they were all there the weekend we were there! As you know by now, caves don't "do it" for me, so I was pleased to give the queues a miss.
Ad. Article continues below.
I should also mention nearby Wookey Hole, the source of the River Axe, was once considered one of the wonders of Britain. The cave is now a "show" cave, open to the public, was formed by the underground River Axe and the river still runs through it. No I didn't go in! I went there as a teenager so don't need to go into any caves ever again.
It was a relief to get on the main road which was the one I would have navigated us to had we not used the GPS!
Next day, regardless of the rain, we went back without the caravan in tow and the gorge is truly a spectacular sight. A walker's delight, too.
The weather was definitely not being kind to us but I needed my "water fix"; I needed to see the sea, so we drove to the nearest seaside town which was Burnham on Sea. What can I say? Bad day as it was a Saturday, school holidays, and unbeknown to me this is a very popular place for holidays with children, so the traffic queue was something else. "Must be good", I murmured, seemed like everyone was going there. I told Greg he might end up seeing a "typical" English seaside town, complete with the smell of fish 'n chips.
How wrong I was. It was my idea of a holiday nightmare, but I tried to justify why families would go there. Static caravans in rows and rows…everywhere. Crammed in, no space. Tourist caravans also squeezed into spaces so I looked at the map and there is a peninsula a bit past all the caravans with the names of farms along the road.
Ad. Article continues below.
Shock horror. Each "farm" was yet another huge holiday park! Bingo: candy floss, entertainment evenings, discos, amusement arcades, pubs. Yes, and fish 'n chips, fairground rides – you name it. What a shock. And crowded, so crowded. I try to understand why people come from crowded cities to crowded seaside tin towns. They must spend a fortune on all the "extras". But who am I to criticise? When I was a child my parents took us to Butlin's Holiday Camp and we had a ball, everything organised for us.
So next we went to Weston-Super-Mare, just a short drive away. A more "gentile" holiday town with a pier and typical guest houses on the foreshore. Busy, but older holidaymakers. A pleasant drive along the coast, a stop for a short walk while the sun came out. On the way back to the caravan we stopped to check out the local cider farm. This is one of the best areas for cider, so it's a must see.
Before we knew it, we were headed towards Devon and our second farm sit, near Holsworthy, North West Devon. Five feral farm cats, three black Labradors, and heifers.
…to be continued…
Have you been to Cheddar before? What did you do there?