A country boy has some down-to-earth advice for fellow teens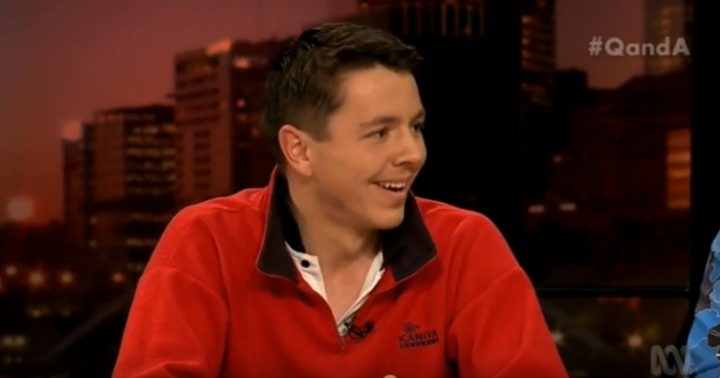 A Victorian farmer's son has stunned Australia by doling out sage advice to young people on ABC's Q&A last night. 
Seventeen-year-old Jock Maddern is from a small town of 800 in western Victoria and said his peer group could still afford to buy a house if they were prepared to move to the country and do menial jobs to save money. 
"Here in Melbourne, understandably it's going to be a lot more expensive than in Kaniva," he told the audience. 
"There's still houses out there if you want to buy 'em and you may have to sacrifice the location where you want to live but if you want a house, there are houses out there that are affordable."
The Daily Mail reported that a two-bedroom house in Kaniva, where Moddern lives, is for sale now for just $63,000, which is dramatically less than the average full-time salary for most Australians. 
Ad. Article continues below.
The low price tag is considerably less than Melbourne's median house price of $844,000 and is actually closer to Sydney house prices in the 70s. 
When questioned by Q&A host Tony Jones about how young people today without jobs in Kaniva could afford to buy a home, Moddern took a leaf from former Liberal prime minister Malcolm Fraser's book by quoting one of his commonly used phrases.  
"Well, life wasn't meant to be easy. If it was meant to be easy, everybody would be good at it," Modddern said, getting a laugh from the Melbourne audience.
"Young kids have got to want to work. There are jobs out there. There will be jobs out there. It could be sweeping the floor at a factory or something. If people want them they can find them. No matter how little it is, it banks up as experience and you can move up and get more experience and all of a sudden you have the experience to qualify for the job you want."
The teenager from a farming family was widely praised on social media for speaking with wisdom beyond his years. 
Ad. Article continues below.
Jock Maddern. Grounded. Intelligent. Modest. Keep this young man talking, Tony #QandA

— Haley Tancredi (@HaleyTanc) July 24, 2017
So much common sense by Jock Maddern from Kaniva on @QandA that it gives hope for the future. I hope he joins @AuConservatives #QandA

— Cory Bernardi (@corybernardi) July 24, 2017
Ad. Article continues below.
The above tweet was from former Liberal senator Cory Bernadi who invited Maddern to join his new Australian Conservatives party, despite Maddern expressing support for gay marriage and Muslims on the program. 
Maddern also voiced his opinion about politics and said his safe Nationals electorate of Malley missed out on "pork barreling" promises from Labor. 
"If it's really, really safe, the opposition aren't going to invest there because it's going to take a lot to try and swing the votes," he said, adding that he rejected the idea of replacing the incumbents with independent MPs.
"Keep the Nationals," he said.
Another teenager on the panel, Aretha Stewart-Brown, 16, from Melbourne, said housing was an issue her peers didn't think about. 
"We always talk about the future and future generations and baby boomers," she said.
"Because we can't actually see it, and because it's not affecting us right now, it almost seems like it's not important."