60 Minutes airs snippet of tell-all Gable Tostee interview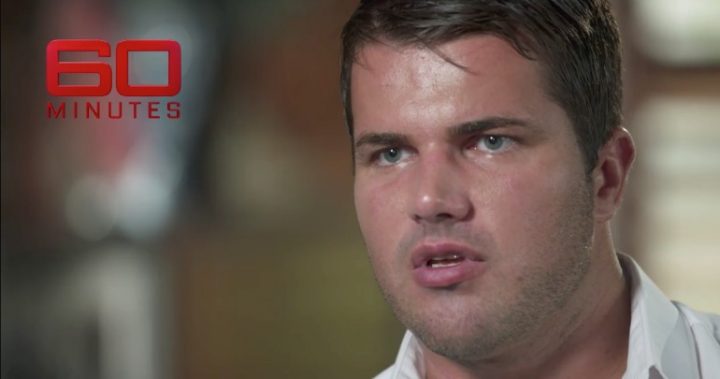 60 Minutes has given a peek into its exclusive interview with Gable Tostee and it's left many viewers outraged.
Tostee was found not guilty of the murder of New Zealand tourist Warriena Wright last month after she fell to her death from his balcony in 2014.
Both 60 Minutes and Sunday Night went into a bidding war over Tostee's story, with Channel Nine ultimately winning with a reportedly massive six-figure sum.
Now they have aired a clip showing part of the interview and it's left some viewers with chills.
After listening to audio of Warriena's cries, 60 Minutes reporter Liam Bartlett prompts Tostee to react.
Ad. Article continues below.
"She says no there 33 times Gable," Barlett said.
"Yeah she was certainly trying to make a lot of noise," replies Tostee.
Earlier in the piece, he can be heard defending his actions.
"I restrained her to stop her from attacking me," Tostee said.
"I don't know what else to do. I wanted it to stop."
Ad. Article continues below.
Later, Barlett asks him if he understands why so many people dislike him.
"Can you understand why many people would think you're a cold, heartless, cruel bastard?" he asks.
"When you put it that way, umm," Tostee replied, before the interview appeared to be cut.
Backlash over the interview started quickly online after the 45-second snippet aired.
"60 Minutes instead of interviewing Gable Tostee and paying him a 6 figure amount use the money to educate men on what no actually means," wrote one woman.
Ad. Article continues below.
"I hope 60 minutes aren't paying gable tostee a cent for his interview seems like a joke," said another angry viewer.
"If #60minutes had any credibility left it has lost it paying for #Tostee interview Can't believe he profits from her death as well," said one man.
And they kept on coming: "Please tell me #60mins hasn't paid Gable Tostee to get his head on TV? Have some respect for her family's loss."
"So Tostee the tosser profits >$100k from someone's death? #despicable #60Minutes."
What are your thoughts after watching? 
Do you think Gable Tostee should profit from this case? Should the media have even bought his story?