This year's Word of the Year is inspired by Trump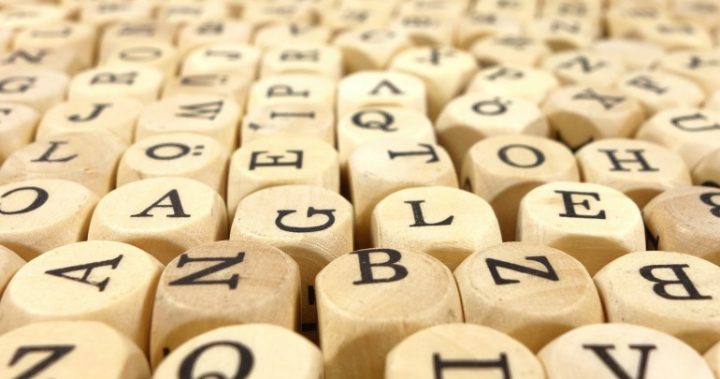 'Complicit' is the 2017 Word of the Year, Dictionary.com has announced. 
The dictionary website defines the word as meaning: "choosing to be involved in an illegal or questionable act, especially with others; having partnership or involvement in wrongdoing. It's a word that reminds us that even inaction is action."
While the major dictionaries, such as Oxford and Merriam-Webster, will choose their own words of the year, Dictionary.com said they made their decision based on public interest following a series of political and Hollywood scandals. 
CEO of Dictionary.com, Liz McMillan said, "Lookups for the word complicit increased by nearly 300 percent in searches in 2017 as compared to 2016," Huffington Post reported. 
"We continue to see a direct correlation between trending word lookups and current events, and we find it encouraging that our users are dedicated to understanding the language and words that pop up in the biggest news stories of the year."
Ad. Article continues below.
The online dictionary said the word complicit sprung up multiple times throughout the year during political events, Hollywood scandals and natural disasters.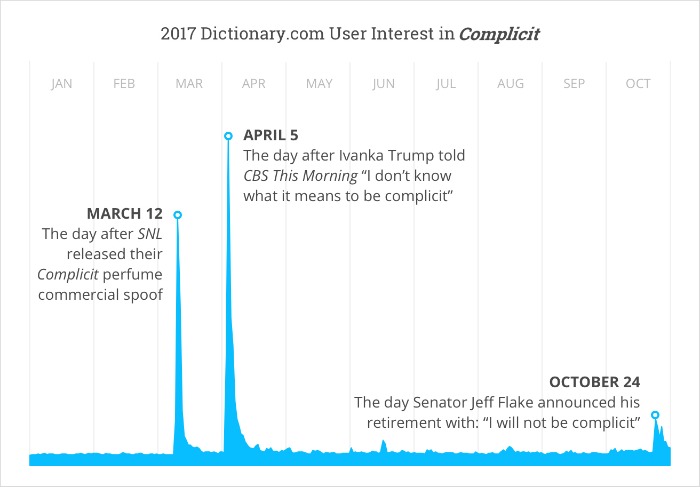 The first spike was on March 12, with a 10,000% increase in daily average searches. This was the day after sketch comedy show Saturday Night Live aired a satirical ad featuring actress Scarlett Johansson playing Ivanka Trump. The ad showcased a perfume named 'complicit' and marketed it as, "The fragrance for the woman who could stop all this, but won't."
Ad. Article continues below.
The word soared again when reports surfaced of a collision between Russia and President Donald Trump during his 2016 campaign, and then again after Arizona Senator Jeff Flake announced his retirement, Dictionary.com said. 
"I have children and grandchildren to answer to, and so, Mr. President, I will not be complicit," Flake said at the time.
The largest increase in searches was on April 5, with a 11,000% incline. The surge followed an interview with the first daughter on the CBS American television program, This Morning. Host Gayle King asked about accusations that Trump and her husband Jared Kushner are complicit in the president's behaviour and political choices. 
"If being complicit is wanting to be a force for good and to make a positive impact, then I'm complicit," she said. 
Ad. Article continues below.
For the past few months, several sexual assault allegations made against several well-known men have been circling. The word complicit surged again after film executive Harvey Weinstein was accused of sexual assault. 
Dictionary.com said their choice, "is as much about what is visible as it is about what is not."
What are your thoughts on this? Do you think 'complicit' best describes 2017?