10 things to do with your unwanted hotel toiletries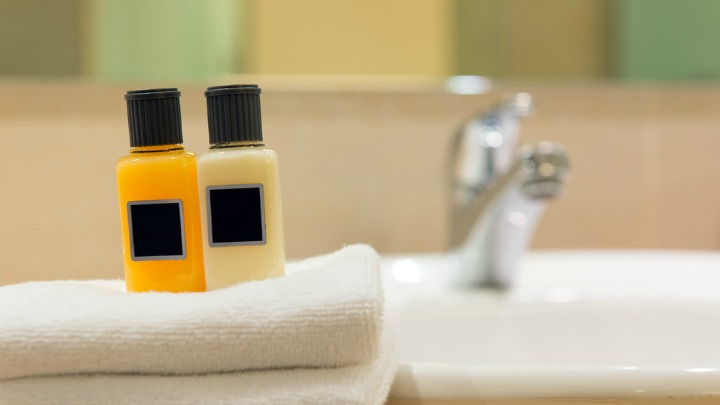 One of the greatest things about staying in a fancy hotel is having the opportunity to pamper yourself and relax a little. Perhaps there's a fluffy robe hanging in the bathroom and a couple of mints resting on the pillows.
But one of the most common hotel luxuries has got to be all those shampoos, conditioners, lotions and soaps that are left lying around. Rather than using them straight away, many of us stuff them into our suitcases and bring them home to collect dust in the bathroom cabinet.
If you're wondering what to do with all your unwanted hotel toiletries, then keep reading because there are so many options rather than leaving them to pile up in the bathroom at home.
1. Use them
This might seem like a no-brainer, but how many times have you looked at your unused hotel toiletries and thought, I'll use them later. Stop it, right now. Instead of saving them for a rainy day, or that day when your shampoo and conditioner runs out, use them now. Pop them into the shower so you remember they're there.
2. Donate them to a charity or shelter
If you just have so many unused containers of hotel toiletries and you're not sure you'll get around to using them all, think about whether you can donate them to a local charity or homeless shelter. There are plenty of places that would love the donation and they will then be passed onto people in need. Make sure you're only donating your unopened and unused bottles, though.
Ad. Article continues below.
Read more: 7 Travel beauty secrets from flight attendants
3. Add them to your travel toiletry bag
No doubt you'll be planning your next trip in no time at all, and when that time comes around you'll be prepared. Put your hotel toiletries into a plastic zip-lock bag and pop them into your carry-on luggage for those long flights when some soap and moisturiser will surely come in handy.
4. Add them to the guest bathroom
If you've got a guest room and bathroom at home, then why not pop your fancy unwanted hotel toiletries in there for your guests to use? That way, the next time friends or family come to visit they'll be so impressed with the hotel-like luxury you have created.
5. Put your hand soaps on display
It's not uncommon for hotels to provide individually-wrapped hand soaps for their guests, and sometimes there are two or three bars of soaps just waiting to be used. If you've got a whole cluster of unused soaps that smell just too delicious to throw out, why not buy a decorative glass jar and place all of them inside. This can be a wonderfully decorative feature to put on display in your bathroom.
6. Combine your soaps
If you're not too keen on putting the soaps on display in their mismatched form, why not melt them down and reset them into moulds. You can buy decorative moulds in different shapes and sizes from your local craft shop.
Ad. Article continues below.
Read more: 5 Yoga stretches to help you during a long flight
7. Reuse the empty bottles
Once you've used up all, or at least most, of your shampoo and conditioner, reuse the small bottles by filling them up with your own beauty products. That way, the next time you plan a holiday, you can make sure all your important toiletries can come with you without having to bring the bigger bottles along.
8. Reuse the shower caps
Disposable shower caps are great for one use, but they become pretty flimsy very quickly. A great way to reuse them is to wrap them around your shoes before you pack them into your suitcase. This will make sure the dirt or mud on the bottom of your shoes won't mess up your clothing while you're travelling.
9. Fill them with water
The next time you're planning a picnic and need some ice packs to keep your food nice and chilled, think about whether your unused toiletries can come in handy. Fill up your empty bottles with water, pop them into the freezer and then take them out when your picnic basket needs chilling.
10. Leave them unused
It might be tempting to take every last free toiletry possible from the hotel room, but that could be wasteful, especially if you don't plan on using them. A much more sustainable and environmentally friendly option would be to leave them exactly where they are. You might even want to leave a little note saying what you've done to encourage other people to do the same.
How have you repurposed your hotel toiletries? Let us know.