You may have personal insurance protection, but what about your children?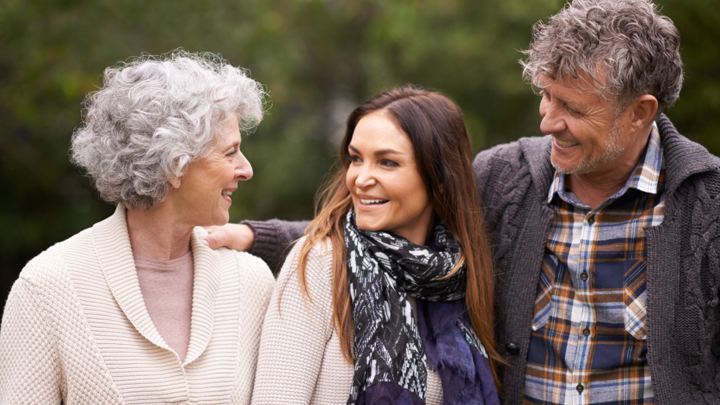 When it comes to protecting ourselves and our families financially against accident, illness and injury, Australians can sometimes take a 'she'll be right' approach – and we are falling well short of the mark.
Naturally if something were to happen to your child like an unfortunate accident or unexpected illness, you as a grandparent would do everything in your power to assist in their recovery and help out your children and grandchildren. But we all know that raising a family costs a lot of money.
What would you do or how could you help if your child and their family faced a health tragedy and financial ruin if they suffered a heart attack, stroke or cancer and forced to take extended unpaid leave from work or finish their working life all together?
That's why the smartest way to help your children financially is to make sure they are adequately protected against accident, illness and death. Of course life cover provides financial security for your child's family in the event of their death, with a lump sum payment or instalments. This could help pay off their mortgage and other debts, provide for their children's education, or cover day-to-day living expenses. On the other hand if your child was diagnosed with a critical illness such as cancer, heart attack or stroke, trauma protection could provide a lump sum or instalments to help maintain the family's lifestyle under the changed circumstances.
So let's look at some scenarios:
Ad. Article continues below.
Barry and Dawn are retired and have enough saved away to enjoy a modest to comfortable retirement which was partially funded from selling their home to move into an easier to maintain apartment. They have a daughter, Jane, who is a single mother to 3 children under 10. It has been agreed that Barry and Dawn will be guardians of the children if Jane was to pass away. However, Jane does not have any life insurance and therefore if Jane was to pass away though Barry and Dawn would love to raise their grandchildren how would they fund moving to a bigger place, pay for the extra groceries and their education.
Tom and Ros are in a similar situation to Barry and Dawn, but their daughter, Jenny is a stay at home to 3 children as Jenny's husband Brian works full time. Jenny and Brian just manage to pay their mortgage and bills and therefore have no savings and Brian does not have life insurance. I would imagine if Brian was to pass away Jane would be looking to Tom and Ros for financial assistance, who like many us could not say no and therefore would be kissing away any hope of being able to enjoy their retirement as they had planned to.
Bill and Jean are in the same situation as Tom and Ros, with a stay at home daughter Kelly and a son-in-law David. Kelly has recently been diagnosed with breast cancer and David needs to leave his job to look after their 3 children. As Kelly does not have any insurance cover, Kelly and David will have no choice, but ask Bill and Jean for financial help. Once again Bill and Jean can kiss the retirement they have looked forward to goodbye.
So what is the cost of insurance?
Ad. Article continues below.
Well many see it as a cost, but I think it should be looked at as an investment to safe guard the retirement you have spent 40 years working towards and the whole family can rest at night they are all financially protected is the worse was to happen. Examples of costs are as follows:
Life Cover
For $500,000 worth of cover for a 60 year old male, white collar, non-smoker the cost is approximately $40 per month.
Income Protection
To cover a salary of $100,000 for a 60 year old female, white collar, non-smoker the cost is approximately $50 per month.
Ad. Article continues below.
Trauma
For the same person as above and $200,000 worth of cover the cost is approximately $75 per month.
*Justin McMillan is an Authorised Representative of RI Advice Group Pty Limited (ABN 23 001 774 125), Australian Financial Services Licence 238429. This editorial does not consider your personal circumstances and is general advice only. You should not act on the information provided without first obtaining professional financial advice specific to your circumstances.
Do you have insurance cover for your life and income? Tell us why you have it below. 
Important information: The information provided on this website is of a general nature and for information purposes only. It does not take into account your objectives, financial situation or needs. It is not financial product advice and must not be relied upon as such. Before making any financial decision you should determine whether the information is appropriate in terms of your particular circumstances and seek advice from an independent licensed financial services professional.