The best bits from Buffett's Berkshire Hathaway Letter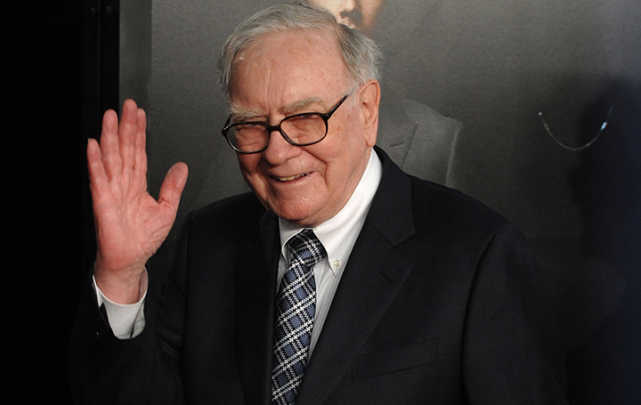 It is that week of the year for investors when perhaps the most insightful piece of analysis from one of the most forward thinking and interesting investors hits the airwaves, the Berkshire Hathaway Annual Letter.  And this year, with the 50th Anniversary of Warren Buffett at the helm of Berkshire Hathaway it is in fine form and particularly entertaining, complete with a good selection of entertaining quotes and subtexts.  If you have time, be sure to click through and read it for yourself in full.  If you don't we've boiled out the best bits.
There was a lot of credit handed out by Charlie Munger, in an account on Bloomberg, remembering Berkshire's past, writing, "My cigar-butt strategy worked very well while I was managing small sums." He credited Munger with "building a business that could combine huge size with satisfactory profits": "The blue print he gave me was simple: Forget what you know about buying fair businesses at wonderful prices; instead, buy wonderful businesses at fair prices."
The letter attributes Berkshire achieving so much under Buffett because of "1) The constructive peculiarities of Buffett, 2) the constructive peculiarities of the Berkshire system," as well as "the weirdly intense, contagious devotion of some shareholders and other admirers, including some in the press," "and their interactions." Munger continued: "In particular, Buffett's decision to limit his activities to a few kinds and to maximize his attention to them, and to keep doing so for 50 years, was a lollapalooza."
It's Buffett's experience of "turning a tiny stash into a a large and useful company" in his early years that's particularly relevant for other investors, Munger wrote. His advice? Avoid bureaucracy.
Ad. Article continues below.
Now, here are the best bits.
To read a full set of highlights, you might enjoy the Wall Street Journal's article.
In the Beginning…
"On May 6, 1964, Berkshire Hathaway, then run by a man named Seabury Stanton, sent a letter to its shareholders offering to buy 225,000 shares of its stock for $11.375 per share. I had expected the letter; I was surprised by the price. Berkshire then had 1,583,680 shares outstanding.
Ad. Article continues below.
About 7% of these were owned by Buffett Partnership Ltd. ("BPL"), an investing entity that I managed and in which I had virtually all of my net worth. Shortly before the tender offer was mailed, Stanton had asked me at what price BPL would sell its holdings. I answered $11.50, and he said, "Fine, we have a deal." Then came Berkshire's letter, offering an eighth of a point less. I bristled at Stanton's behavior and didn't tender. That was a monumentally stupid decision.
Berkshire was then a northern textile manufacturer mired in a terrible business. The industry in which it operated was heading south, both metaphorically and physically. And Berkshire, for a variety of reasons, was unable to change course."
On Berkshire today…
"Berkshire is now a sprawling conglomerate, constantly trying to sprawl further. Conglomerates, it should be acknowledged, have a terrible reputation with investors. And they richly deserve it."
Ad. Article continues below.
On the next 50 years at Berkshire
"First and definitely foremost, I believe that the chance of permanent capital loss for patient Berkshire shareholders is as low as can be found among single-company investments. That's because our per-share intrinsic business value is almost certain to advance over time. This cheery prediction comes, however, with an important caution: If an investor's entry point into Berkshire stock is unusually high – at a price, say, approaching double book value, which Berkshire shares have occasionally reached – it may well be many years before the investor can realize a profit. In other words, a sound investment can morph into a rash speculation if it is bought at an elevated price. Berkshire is not exempt from this truth."
On Berkshire in the future
"I believe the chance of any event causing Berkshire to experience financial problems is essentially zero. We will always be prepared for the thousand-year flood; in fact, if it occurs we will be selling life jackets to the unprepared. Berkshire played an important role as a "first responder" during the 2008-2009 meltdown, and we have since more than doubled the strength of our balance sheet and our earnings potential."
Ad. Article continues below.
"The bad news is that Berkshire's long-term gains – measured by percentages, not by dollars – cannot be dramatic and will not come close to those achieved in the past 50 years. The numbers have become too big. I think Berkshire will outperform the average American company, but our advantage, if any, won't be great."
On the next CEO
"My successor will need one other particular strength: the ability to fight off the ABCs of business decay, which are arrogance, bureaucracy and complacency. When these corporate cancers metastasize, even the strongest of companies can falter."
Important information: The information provided on this website is of a general nature and for information purposes only. It does not take into account your objectives, financial situation or needs. It is not financial product advice and must not be relied upon as such. Before making any financial decision you should determine whether the information is appropriate in terms of your particular circumstances and seek advice from an independent licensed financial services professional.