The benefits of working past the retirement age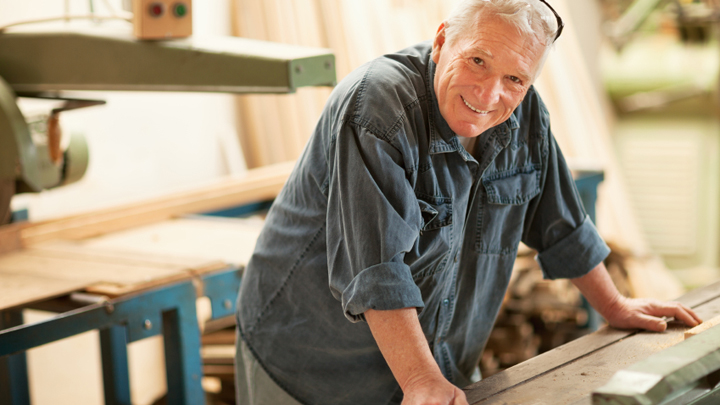 By now you're probably well versed in the changes to the retirement age, age pension and superannuation.
For many people they're the determining factor in delaying retirement and working past the traditional retirement age, which used to be 65 but is set to rise to 67.
This topic has been discussed a lot here at Starts at 60.
And of course, we hear a lot of negatives about the prospect of people working until they turn 70.
But, how often do you hear about the benefits of working past the retirement age?
Ad. Article continues below.
It turns out there are benefits to working past the retirement age, particularly if you're in a career that allows you to and isn't physically taxing on your body.
Read more: Baby Boomers still have something to offer the workplace
To understand the benefits of working while your peers are retiring, you first need to understand why more people are working past the retirement age.
The FSC-CBA Older Australians Report 2015 found 71% of workers over the age of 50 felt optimistic about staying in the workforce.
The report showed 12.9% of Australians over the age of 65 were still working – and that number was expected to rise.
Ad. Article continues below.
Apparently, 61% of the older workers surveyed for the report continue working for financial security, but others listed reasons including independence, a sense of accomplishment and personal enjoyment.
Despite that, 65% of older workers were satisfied they had enough money put aside to retire.
General Manager of Retirement at Commonwealth Nicolette Rubinsztein told Canstar last year that older workers were staying employed to give themselves a more comfortable retirement. 
Read more: Statistics show you could be working well after you're 70
So, what are the benefits?
Ad. Article continues below.
Well, the big benefit is financial.
According to Canstar, working longer means you'll have more money when you choose to retire.
Think about it. Not only would you delay accessing your superannuation – allowing it to grow further – you're also adding more to it as you work.
If you chose to retirement at 70 instead of 65 or 67, you could potentially have tens of thousands of dollars more in superannuation – along with the extra wages earned along the way.
To back up their point, Canstar used the situation of a 30-year-old on an income of $50,000 with $20,000 accumulated in superannuation and a super earning of 7% per year.
Ad. Article continues below.
With that figure in mind, that person would have an average super fun of $595,000 at age 65.
But, just 5 years later their superannuation could be worth as much as $800,000.
So, that's the financial benefits.
What about the health benefits?
Research shows that both your mental and physical health can benefit from working past the retirement age.
Ad. Article continues below.
By staying engaged with colleagues you're boosting your social life, which in turns boost your emotional and mental state.
Working also keeps you thinking and problem solving, which can keep your mind fresh and active.
And then there's the physical activities included with working, such as walking, using your hands and standing (which can help with your circulation).
Staying employed after the retirement age doesn't necessarily mean working 9 to 5, five days a week.
If you don't want to stay employed full time, you can always consider part time or casual work.
Ad. Article continues below.
Read more: How much you can earn before it affects your pension
What about the impact on your pension?
You can earn up to $164 per fortnight before your pension starts to drop.
If you earn $600 per fortnight, your pension will drop by $218 per fortnight.
A couple can earn $292 per fortnight, and if they earn $600 per fortnight, they'll lose $454 each per fortnight.
Ad. Article continues below.
If you're single you can still receive some form of part pension while earning up to $1911.80 a fortnight, while couples can still receive some pension while earning up to $2926.80 per fortnight.
Are you working past the retirement age? Do you enjoy it?
Important information: The information provided on this website is of a general nature and for information purposes only. It does not take into account your objectives, financial situation or needs. It is not financial product advice and must not be relied upon as such. Before making any financial decision you should determine whether the information is appropriate in terms of your particular circumstances and seek advice from an independent licensed financial services professional.