Super-rich celebrities who won't be leaving their kids a fortune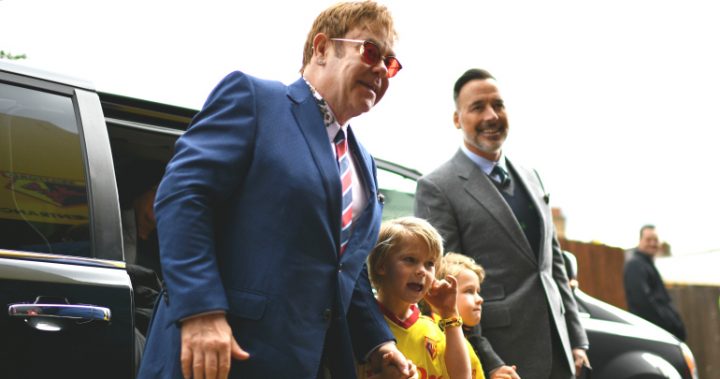 Imagine growing up as the child of a super-rich celebrity.
We see images of these families on exotic holidays, at glamorous events, lounging around their super yachts and seemingly enjoying all the trappings of their family wealth.
It's hard to imagine these children would ever want for anything.
But a growing number of cashed up celebrities are declaring that they do not spoil their kids, and will not be leaving them part or any of their vast fortunes.
Here's just a few of the celebs who are giving their children a dose of tough love on the financial front, and their reasons for doing so.
Ad. Article continues below.
Elton John
Sir Elton John told The Mirror that an inheritance would ruin the lives of his sons Elijah and Zachary.
The superstar and husband David Furnish insist that their sons must stand on their own two feet, making them work for their pocket money, and trying to bring them up "to be as grounded as is realistically possible."
"Of course I want to leave my boys in a very sound financial state. But it's terrible to give kids a silver spoon. It ruins their life," he said.
Sting
Ad. Article continues below.
Sting's six children also have to work and pay their own way.
The singer, who is worth an estimated $A318 million (£180 million) told The Mail in 2014, that he didn't want to leave them "trust funds that are albatrosses round their necks."
"Obviously, if they were in trouble I would help them, but I've never really had to do that. They have the work ethic that makes them want to succeed on their own merit," he said.
Andrew Lloyd Webber
The English composer who made millions from the stage and film adaptations of his hit musicals Jesus Christ Superstar, Cats, Evita, Phantom of the Opera and others, would rather his month be used "as a way to encourage the arts" rather than creating "a whole load of rich children and grandchildren", MSN reported.
Ad. Article continues below.
Bill and Melinda Gates
Microsoft founder Bill Gates and wife Melinda say that while they'll pay for their kids Jennifer, Rory and Phoebe to go to college, he plans to leave the vast majority of his fortune to his charity, the Bill & Melinda Gates Foundation.
"It's not a favour to kids to have them have huge sums of wealth. It distorts anything they might do, creating their own path," said Gates, quoted in a News.com.au article.
Warren Buffet
With an estimated worth of $A80 billion ($USD65.1 billion), the Berkshire Hathaway boss announced in 2006 that he intended to donate the lion share of his wealth to charity.
Ad. Article continues below.
Now one of the billionaires behind the Giving Pledge, Buffet is giving away 99% of his wealth, and encourages other billionaires to do the same.
In one of Buffett's most famous quotes is about not leaving his vast fortune to his children, he said: "I want to give my kids just enough so that they would feel that they could do anything, but not so much that they would feel like doing nothing."
Mark Zuckerberg
Facebook founder Mark Zuckerberg and wife Priscilla Chan intend to donate the majority of their fortune to the Chan Zuckerberg Initiative, a philanthropic organisation which seeks to advance human potential and promote equal opportunity.
Zuckerberg pledged to give some 99% of his Facebook shares, current about $45 billion to the initiative, according to News.com.au, rather than leaving it to their children Maxima and August.
Ad. Article continues below.
Jackie Chan
Actor Jackie Chan, who is now a UNICEF Goodwill Ambassador, animal abuse campaigner and founder of the Jackie Chan Charitable Foundation, is on record as saying his will leave his son no money and that it will all go to charity.
"He can make his own money," the star reportedly told the press, Time reported.
Do you believe children should rely on an inheritance or pay their own way?
Important information: The information provided on this website is of a general nature and for information purposes only. It does not take into account your objectives, financial situation or needs. It is not financial product advice and must not be relied upon as such. Before making any financial decision you should determine whether the information is appropriate in terms of your particular circumstances and seek advice from an independent licensed financial services professional.