Scammers are targeting your super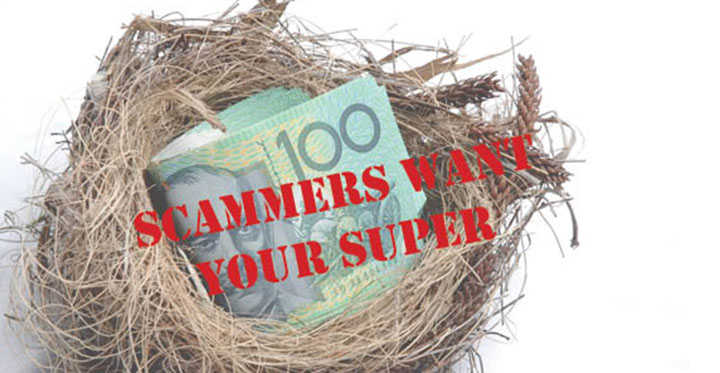 I don't know about you, but I have become quite judicious with who I give my information out to, particularly over the phone.  I received a call the other day to my mobile, allegedly from the Queensland Chamber of Commerce (of which I am not a member) and a woman with a very foreign accent and a strange non-local phone number proceeded to launch into a request to update my contact details over the phone.  My hackles went up immediately.  Why would the Queensland Chamber of Commerce need to use an international call centre to update their databases by phone in this day and age?  I proceeded to thank the woman and hang up.  "I do not give out information over the phone, thank-you!" I said. And that is where I left it.
Then I trotted off to look at the latest scamwatch information only to find that there is a new level of activity in identity theft in Australia; and that is something we need to be very alert to.  Cybercrime isn't new, but it is ever-increasing; and with 36% of cybercrime victims aged between 40 and 60, and 17% of victims aged over 60 it is something we need to stand up and take notice of.  And their target at the moment is perhaps not the one you might have thought of … they are looking to find ways to get into your superannuation.
Superannuation, the honey pot that is luring investors to its low-tax attractiveness, is now a target for cyber criminals it seems, and it is more important than ever that older Australians are aware of the risks of responding to an inbound call, email, or request for information from a source they don't trust.  For many here, the superannuation nest egg is the largest asset they have outside of their home.  For a lot of people, it is something we set up and only check in on from time to time, and that, according to the Australian Federal Police makes it a lucrative target.  The Attorney General's department suggests that identity crime has become one of the fastest growing and most common crimes affecting Australians each year—more people report being a victim of identity crime than assault, robbery, motor vehicle theft or household break-ins.
Ad. Article continues below.
"Superannuation Fraud is the latest earner for organised criminals who are targeting unsuspecting victims across Australia with victims remaining unaware for years that they have been duped," said the department.  Criminals are finding ways to grab identity data, then finding ways to transfer the superannuation into self managed super fund accounts or applying to the fund for hardship payments and it seems they are getting away with it a lot more than we would like to hear.  It is just another kind of identity crime, but a malicious one when you think of the terrible impact it can have on someone's life.
According to the latest figures from credit group Veda, 772,000 Australians fell victim to identity theft in the last year and the cost of this was approximately $4000 per person.  That is a lot of scamming going on!  And it is illegally obtained data that fuels it.  People start by stealing your personal information.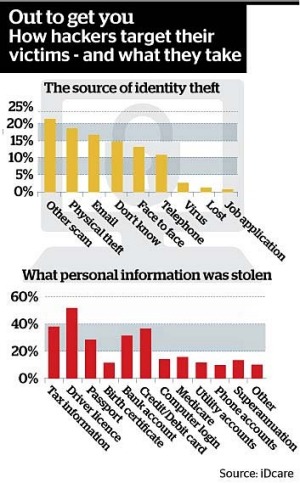 Whether they steal it from your mailbox, or from you directly on the phone, it gives them a starting point that it is hard to recover from.
The ABC's AM program told of an example in a recent article:
"When thieves broke into Rhonda's supposedly secure mailbox she thought it was just another ordinary theft.
Ad. Article continues below.
But five months later she got a text message from her bank asking her to confirm that she had changed her mobile number.
"I received a text basically advising me that if the changed mobile number wasn't correct to contact them immediately.  
Rhonda immediately went to an ATM to check her account.
"And when I went there it had gone from a $6,000-plus account down to a dollar," she said.
The thieves had obtained her name and date of birth, as well as some basic account details.
Ad. Article continues below.
Rhonda said it was enough for them to access her account through telephone banking.
"They'd stolen my mail and got a certain amount of information that gave them enough to start getting them through some protocol with the bank," she said.
"Then I believe from there, you know obviously we're all very active on social media, they were able to get further details."
The most important things you can do.
To avoid becoming a victim of identity theft:
Limit the amount of personal information you publish online.
Secure your computer and mobile phone with security software and strong passwords.
Be cautious about requests for personal information over the internet, phone and in person.
Learn how to avoid common scams by visiting SCAMwatch.gov.au.
Investigate the arrival of new credit cards you didn't ask for or bills for goods and services that aren't yours.
Be alert for any unusual bank transactions or missing mail.
Order a free copy of your credit report from a credit reporting agency on a regular basis, particularly if your identity has been stolen.
If you believe you have been the victim of identity theft, report it to your local police, ACORN or iDcare.
Source: ACORN.gov.au
Important information: The information provided on this website is of a general nature and for information purposes only. It does not take into account your objectives, financial situation or needs. It is not financial product advice and must not be relied upon as such. Before making any financial decision you should determine whether the information is appropriate in terms of your particular circumstances and seek advice from an independent licensed financial services professional.