Tearful Australia Post workers say government deal 'robbing retirement'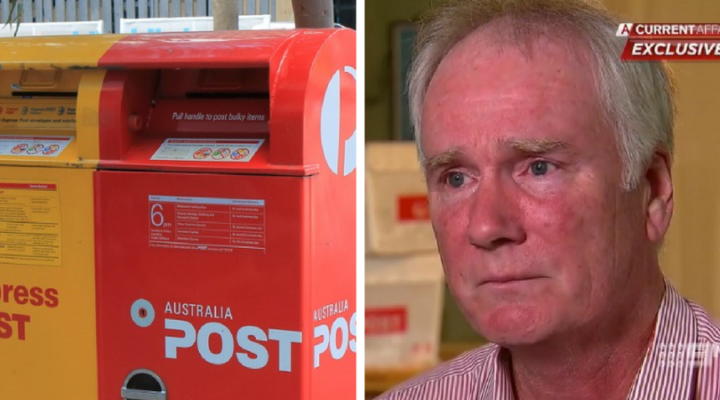 Australia Post licensees have broken down in tears, claiming they've been "robbed of their retirements" thanks to "unfair" wages and an increased workload over the past decade.
A series of hard-working families who operate local post offices were filmed as part of a hard-hitting A Current Affair segment on Thursday night, and they have blamed online shopping for a huge increase in workload – with no reflection in their pay packets.
According to the show, the government has had them locked into "unfair agreements" for the past 25 years – meaning "some are paid as little as $5 an hour".
David McIntyre and his wife Jan run a small post office near their home in Melbourne, and claim the business has "robbed them of their retirement". In fact, they're on track to earn just $15,000 each this year.
Appearing tearful on camera, David asked: "Why are they doing this to us? What have my wife and I done to deserve this treatment?" He then broke down in tears, adding: "I'm sorry, no-one seems to care. They just don't care what they're doing to us."
Ad. Article continues below.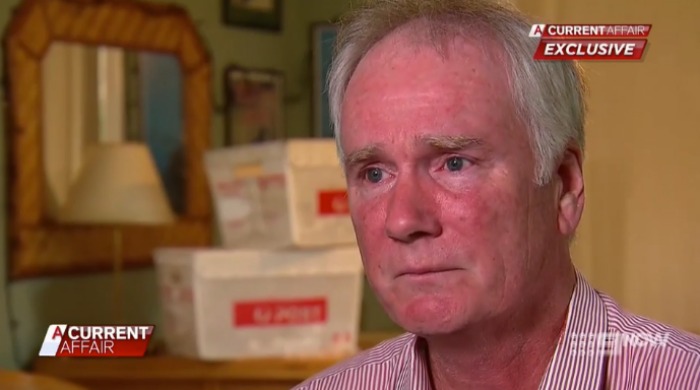 "It can be demoralising and depressing," he added. "We've had to live with it every day for the last 10 years".
Business for the couple is "booming" thanks to online shopping, but David explained: "The busier you are, the less you're earning".
Ad. Article continues below.
The show explained the licensees are still operating under an agreement with Australia Post which has barely changed at all since 1993 – striking back to a time when everyone still posted letters regularly, and long before online shopping took off. The agreement doesn't pay licensees based on the size of a parcel, how long they have to spend handling it, or how long it's stored there.
Read more: Australia Post warns of scam targeting innocent Aussies
What were once piles of letters, are now heavy packages from online stores, making the workload huge for posties – with less pay for it. Now, for scanning a PO box parcel, licensees only get paid a flat rate of 37c a package.
David said they had put their life savings into the government-run business and "this is what we've copped". He tearfully added: "They should be ashamed of themselves. I can't do this, I'm sorry."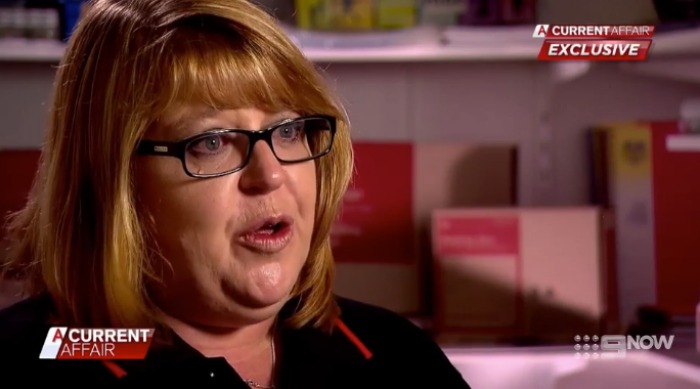 Elsewhere, Lynairre Poless broke down in tears from her own post office, adding: "They keep saying that we're a vital part of their network, that we're needed and wanted and trusted, and important to our communities… But it's all lip service, words mean nothing, I want action, I want action … we need action."
Another licensee added: "We have been in despair for 10-15 years, and earning less than $5 an hour", while Wollongong Australia Post licensee Angela Cramp believes she's lost around $1million over her career, adding: "In 2010, we were doing 10 hours of unpaid work a day to deal with the parcels."
According to the show, in 2016, the company's top executives "took home a combined $13,795,900 in salary and bonuses". Last year, that shot up to almost $20 million.
Ad. Article continues below.
Read more: Australia Post boss Ahmed Fahour exits with $10.4M 'golden goodbye'
A Senate inquiry in 2014 led to a marginal increase in payments for licensees – but they claim it's not nearly enough.
An Australia Post scandal threatens financial ruin for some hardworking families operating local post offices. They claim the government has had them locked into unfair agreements meaning some are paid as little as $5 an hour, if that. #9ACAhttps://t.co/LLu8ULYIJF pic.twitter.com/dzSnqPq3M8

— A Current Affair (@ACurrentAffair9) February 22, 2018
Australia Post has reacted however, and ordered an urgent comprehensive review into its licensee payment systems, as well as a broader review into the company's "entire strategic operation".
Ad. Article continues below.
In a statement to A Current Affair, it said: "Australia Post deeply respects the important role our licensees play in connecting Australians and serving communities across the country.
"We understand that, like Australia Post, they are facing significant changes in their businesses as consumers change to digital forms of communication, rather than sending letters, and bank branches and other services in many communities reduced."
The statement went on: "We appreciate the pressure this has caused some of our licensees. In this period we have increased their payments by 35 percent to almost $440 million."
Australia Post's licensees are not the only smaller businesses feeling the pressure of online shopping, with many independent shops being forced to close down over the last decade as the internet continues to soar, and larger chains take over the high street.
Starts at 60 has contacted Australia Post for comment.
Do you think smaller businesses such as Australia Post's independent licensees are being treated unfairly? Have you experienced this?
Important information: The information provided on this website is of a general nature and for information purposes only. It does not take into account your objectives, financial situation or needs. It is not financial product advice and must not be relied upon as such. Before making any financial decision you should determine whether the information is appropriate in terms of your particular circumstances and seek advice from an independent licensed financial services professional.