Property bubble proves great time for boomers to downsize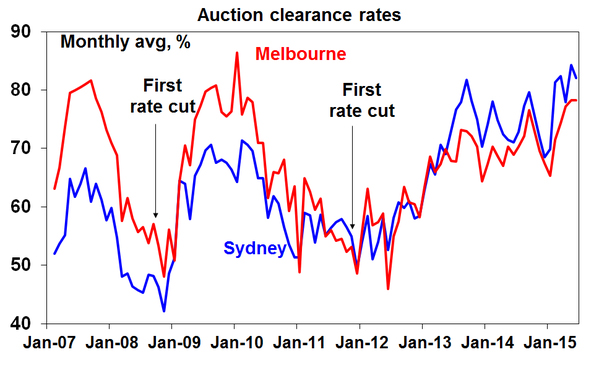 Auction clearance rates have held strong in Sydney and Melbourne this weekend despite winter kicking in, topping out at 83% for Sydney and 81% for Melbourne with reserves being exceeded on properties at all price points, right up to the $2-4 million range. Clearance rates are up more than 8% on a year ago when we were talking about the possibility of growth in property markets. This weekend, the AFR reported one property advocate as confidently acknowledging we are in the midst of a property bubble. And whilst it is troubling for most people to see property prices zooming ahead of affordability, for many baby boomers this is just what they need to get their retirement plans on track – a high growth period to allow their asset values to incline before they sell and downsize, getting their hands on the wealth that will support them in retirement. Just like when the Reserve Bank cuts interest rates and everyone talks about how wonderful it is for the new homebuyers and forgets the impact on boomers; the same thing is being seen today with property prices. People are forgetting just how many people have been waiting for a cyclical upswing in the property markets to pack up and leave the big house in the suburbs and move to more right-sized accommodation suited to their aspirations for the next phase of life as a single or couple.
Buyers' advocate David Morrell commented to the AFR with confidence about the market. "Are we in a bubble? Of course we are. It just depends who is caught with the parcel," he said. "But in my opinion, it is incredibly hard to buy because you cannot justify the prices".
It is a very strong weekend for a winter weekend, which is usually a softer time in the markets.  And there was more auctions across the capital cities than the weekend before or the same weekend last year. Approximately 2050 auctions were held this weekend, against 950 the week before, and about 950 on the same weekend a year ago.
Ad. Article continues below.
The numbers were astounding really. In Melbourne, auction clearance rates at the close of Saturday sat a an approximate level of 81 per cent with more than 1047 properties taken to auction.
And Sydney got it even better. More than eight out of 10 of all houses in the city sold on the day. The peak of the Sydney market's heat was seen the with an all time record high to the clearance rates of 89.2% on May 9, so a pullback to 83% is still a terrific result.
There is no way of us knowing just how many of those selling up larger homes are in fact baby boomers or beyond rethinking their needs in the housing and property markets. But from where we sit, it is certainly a fruitful time for sellers.
Are you considering selling up into this boom in property markets?
image source: Twitter
Important information: The information provided on this website is of a general nature and for information purposes only. It does not take into account your objectives, financial situation or needs. It is not financial product advice and must not be relied upon as such. Before making any financial decision you should determine whether the information is appropriate in terms of your particular circumstances and seek advice from an independent licensed financial services professional.