The moves followed the RBA's decision to cut the cash rate, which typically dictates changes in deposit rates, to 0.25 percent on March 19 as part of a package designed to prop up the economy as Australia battles coronavirus. And while banks didn't on this occasion follow the direction of the cash rate, RateCity's research director Sally Tindall said that the environment of low interest rates was here to stay, so savers shouldn't expect deposit rates to rise to previous highs.
The table below from Reserve Bank of Australia shows the long-term decline in term deposit rates, albeit with a few blips, since the early 1990s. It appears unlikely rates will climb back to the 16 per cent peak of that period, when RBA's cash rate was 17.5 percent.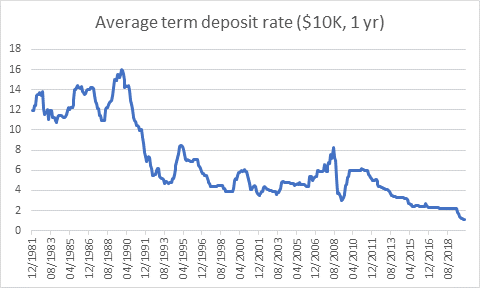 "Term deposits were once a popular option to get a consistent return on equity," Tindall said. "Now, they are little more than a safe place to park your cash. While the days of double-digit interest on term deposits are behind us, that doesn't mean people should just throw their hands up in the air and do nothing."
The banks' responses to the impacts of Covid-19 on the economy have so far been positive, with most institutions looking to give customers the opportunity to get back a little more during this difficult time. In particular, Westpac has offered a market-leading rate for pensioners.
"Cuts to the cash rate aren't exactly great for someone looking for a term deposit but these are not normal times and the big banks have each responded with options for people worried about their finances," Tindall said. "Two per cent is a far cry from the 1990's when interest rates were at the complete opposite end of the scale, however for some people, there is comfort in knowing that at the very least, their money is a fraction ahead of inflation."
(For comparison, the Consumer Price Index rose 1.8 percent in the final quarter of 2019 over the previous 12 months, the most recent data from the Australian Bureau of Statistics show, below the RBA's target inflation rate of 2-3 percent on average over time. In the final quarter of 1989, CPI rose at an annual rate of 7.8 percent.)
Important information: The information provided on this website is of a general nature and for information purposes only. It does not take into account your objectives, financial situation or needs. It is not financial product advice and must not be relied upon as such. Before making any financial decision you should determine whether the information is appropriate in terms of your particular circumstances and seek advice from an independent licensed financial services professional.