How to save $5000 in a year (without giving up coffee)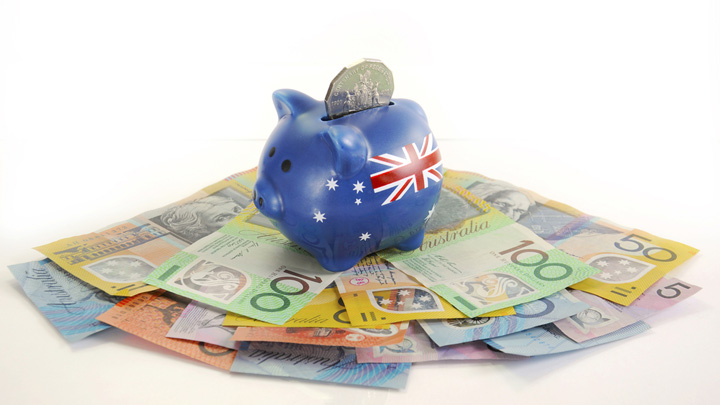 Everyone tells you to stop buying coffees if you want to save, but you don't need to give up your little luxuries to save money. In fact, we have found 9 ways to save over $5000 in a year, without ditching coffee at all.
Here's some small changes to make that could save you thousands.
1. Bottled water
This is a bit of an obvious one but sometimes when we're on the run, it can be easier to just grab a bottle of water than to fill one up. Bottled water contributes to millions of tonnes of waste each year so it's better to take a collapsible bottle with you and fill it up. It's better for the environment and your wallet.
If you buy two bottles of water a week at $3 each, you can save over $300 a year by swapping to a BPA-free bottle.
Ad. Article continues below.
2. ATMs
Banks rake in billions of dollars in account fees every year, and one of the main sources of revenue is through using non-bank ATMs. Currently, the average ATM fee is around $3. If you use an ATM that isn't through your bank just once a week, you could be spending $156 extra every year. Simply try to go cash free and use EFTPOS or card where you can, weigh up whether you really need the cash, or look for your bank's ATM on Google Maps before you leave the house.
3. Parking
It's tempting to just park in the closest car park to your destination but you could be saving yourself quite a bit of money by finding free car parks. Most council websites will have a street car park map and you will be able to find out where they are. Make sure you give yourself enough time to drive around for a park.
An average car park in inner cities is $20 an hour, so if you use it for two hours every two weeks on average, you could save yourself $1040 a year by looking around.
Ad. Article continues below.
3. Lotto
This might seem obvious but there are still so many people who buy a lotto ticket every week. Sure, you might win a little bit from time to time but the chances of getting the jackpot are slim to none. Instead, why not enter into free competitions on websites like Competition Crazy or Win Free Stuff, or save the $780 you would have spent!
4. Drinks and popcorn at the movies
Going to the movies is a luxury in itself, and as seniors we can usually get a discount. But it's the candy bar that can really sting us. Why not take your own food in instead? Put some packet popcorn (about $1 from the supermarket) in the microwave and take it in with you, along with some lollies or treats.
If you go to the movies once a fortnight with a partner and buy from the candy bar (around $30 each), you could save $780 by doing it on the cheap, as mentioned above.
Ad. Article continues below.
5. Makeup
We love to look good but you actually don't need to spend a lot – $15 is the most you should spend on foundation or concealer. Splurge on those two items plus face powder. Scrimp on lipstick, nail polish, mascara, eye shadow and eye liner. You can buy all of these at the chemist or other cheaper stores. You won't notice the difference but your wallet will!
If you buy $60 foundation, $20 mascara, $15 lipstick and two $10 nail polishes every quarter, you could save $350 by buying $15 foundation, $5 mascara, $3 lipstick and two $2 nail polishes instead.
6. Books
If you're still spending $20 on a book, you aren't doing it right! Libraries still exist and you can still borrow books for free. You can also get an eReader and buy eBooks online via Amazon or Booktopia, and they are often around $5-10. Otherwise, for the real discount option, there are thousands of free books to download online here.
Ad. Article continues below.
If you buy a new book ($25) every month, this could be saving you $300 a year.
7. Phone plan
If you've had the same phone plan for the last few years, you might want to call your service provider to see what the latest deals are. You could be paying $20-50 more than you should be just because you didn't check! We've also done the hard work for you and found the best way to get a better deal on your phone plan.
If you still pay, say, $50 a month for only 200 mins of calls and texts, but could be paying $18 for a much better deal, you could be saving $384 a year… or even more.
8. Cleaning products
Ad. Article continues below.
Cleaning products can be expensive but did you know you could just make most of them yourself? Vinegar and bi carb are lifesavers and can replace a kitchen cupboard's worth of products. Here's our favourite tips to make your own cleaning solutions.
You could save $126 by ditching the purchase of five types of cleaning products every two months (all-purpose spray ($4), bleach ($3), laundry powder ($4), window spray ($4) and carpet cleaner ($6)).
9. Wine
If taste, price, and quality were all equal, which would you rather have: one bottle of wine or four bottles in an entire box? Before you turn your nose up at boxed wine, just know it's come a long way since Fruity Lexia.
Boxed wine is actually a major trend in Europe, and many brands are being recognised for their quality and taste.
Ad. Article continues below.
If you buy 2 bottles of wine ($30) a week, and swapped it to one cask ($20) every two weeks, you could save $1040 per year!
Share your thoughts below.
Important information: The information provided on this website is of a general nature and for information purposes only. It does not take into account your objectives, financial situation or needs. It is not financial product advice and must not be relied upon as such. Before making any financial decision you should determine whether the information is appropriate in terms of your particular circumstances and seek advice from an independent licensed financial services professional.