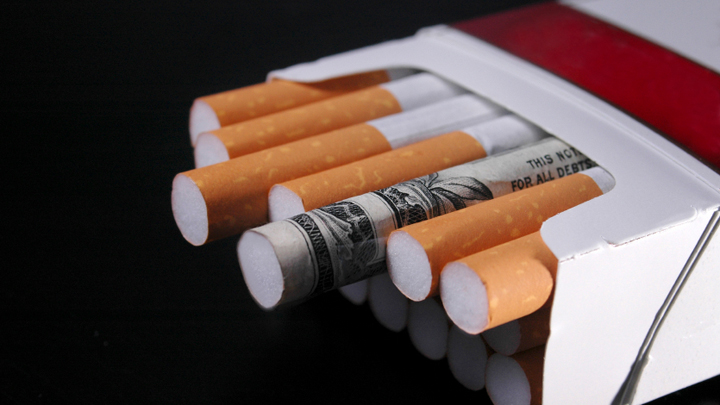 Before you start reading, I'm not trying to pick on the smokers. You are just conveniently helping me make my point.
I had a really interesting Christmas this year. I went and spent some time with family in country NSW and, at the same time, read a book about money. The book was for research for a podcast so it was a little like homework and some of the content was very "back to basics" but regardless of that the messages rang true.
One point that was made in the book was that absolutely anyone can save no matter where they are in life. That's a big call, however the author made the point that you could make the coffee at home instead of buying it or get a pizza at home instead of going out for dinner and the examples went on. The point was that good old fashioned saving and compounding returns remain the most powerful engine room for wealth accumulation and that it's never too late.
This following is a true story:
One day I was out grabbing groceries for a BBQ when I got a text to pick up cigarettes for my Aunt. I stopped at the shop and was absolutely astounded to pay $26 for a packet! $26 I exclaimed! How does anyone afford to smoke cigarettes?
The Australian Bureau of Statistics notes that at January 2013:
"In 2011-12, the Australian Health Survey reported that approximately 8 million Australian adults aged 18 years and over had smoked at some time in their lives. 3.1 million were current smokers, with the vast majority (90 per cent) of these people smoking daily".
Wow! How my mind started to race. What about if you were 25 now and you smoked a packet a day, how much could you save if you stopped?
Here are some answers. Assuming (or maybe dreaming) that cigarettes never increased in price again and that the inflation adjusted return was 3.5 per cent (allowing for 2.5 per cent CPI and tax).
Quitting smoking a packet a day and you would save $9,464 in a year. If you invested it every year for 10 years, that's $111,026; 20 years is $267,639 and 35 years through to when life starts at 60 is $631,003!
If you decided to drop one latte a day @ $3.50 through til 60 you could add another $85,176
And if you cut out 1 night a month on the town and save a further $100, that's another $80,000
Altogether a 25 year old smoker who quits for life, cuts out 1 coffee a day and adds an extra night in front of the TV could save $796,178. That would buy a great deal of additional retirement lifestyle!
What about if you are 60 now?
If you can find a way to save $50 a week, you could save just under $14,000 in 5 years and $30,500 in 10 years. You could do a lot of great retirement things with that much money and It's never ever too late if you take some action.
The point is that you have to make the saving happen. Find you way to putting it out of reach. Get a plan and execute it.
The moral of the story;
Don't make excuses, make plans!
Oh, and Yul Brynner was right, what ever you do, don't smoke.
This editorial provides general information only. Before making any financial or investment decisions, we recommend you consult a financial adviser to take into account your particular investment objectives, financial situation and individual needs. Genesys Wealth Advisers and its Authorised Representatives do not accept any liability for any errors or omissions of information supplied in this editorial.
How do you save money? Have you ever been a smoker? Did you give up and find you saved a lot of money? Tell us below.