You will no doubt appreciate that the key problem with attempting to 'die penniless' is the uncertainty of your date of death. I often said to clients that if you can provide me with the expiry date on your birth certificate I can provide much more specific advice! The reality is you need to assume that you will live longer than you expect and, in my analysis, I have assumed you would live till at least age 90.
(My father passed away recently at age 94 and enjoyed quite good health until he was 93. He never anticipated living that long. I recall one of my children asking me "who would want to live until 94?", and my response was "most 93-year-olds!".)
Another issue raised by your question, is how you will consume a substantially increased amount of money when your current lifestyle requires significantly less. Ironically, when I suggested to clients they should spend significantly more money, they often struggled to increase their expenditure. Lifelong habits die hard. As you do not wish to leave money to family, you could consider philanthropy both during your lifetime and in your estate to ensure that any remaining funds go to good causes that you would support.
Certainly, I have always recommended 'giving with a warm hand' during your lifetime as opposed to gifts from your estate. A further advantage of philanthropy during your lifetime is that it can be very tax effective.
A further issue for consideration is how much to allow for the potential costs of aged care should you be unable to remain in your own home later in life. The costs of accessing residential aged care can be quite high (up to $1 million) unless, of course, you have already consumed most of your assets and are happy to rely on government-subsidised aged care facilities.
In most cases people use their own home to fund the cost of residential aged care, however, in your case you have indicated that you want your partner to inherit the house. Accordingly, you may wish to consider retaining a reserve to provide for aged care later in life.
Putting this to one side, I have undertaken two analyses that involve a number of assumptions as follows:
Scenario One
Expenditure of $200,000 after-tax, indexed by 2.5 per cent
Income from your partner is ignored
I have used a research resource (Farrelly's) for long-term asset class return assumptions
No allowance is made for age care needs later in life.
I have assumed you have $1.6 million in a pension account and the balance in accumulation in your super fund
I have assumed you will keep your remaining funds in the bank or short-term deposits
I assume you would withdraw as needed from your accumulation account once the pension fund is exhausted
After that, you would withdraw from bank accounts until that is exhausted.
It is interesting to note that the long-term asset class returns I have used are the lowest I have used in around 30 years. This does not mean that actual returns may not be even lower in the future. Accordingly, you should be very cautious about long-term projections as actual returns can vary dramatically from projected returns. Having said that, using these assumptions, my projections show that your assets would last until around age 90. At that point, should you be still alive, you would be entirely reliant on the Age Pension (assuming it still exists).
Scenario Two
In the second scenario, all assumptions remain the same, except I have increased annual expenditure after-tax to $250,000. In this scenario, the analysis shows that you will have exhausted all of your funds by age 85 – which is still past your life expectancy (but not by much).
In order to help illustrate the outcome of these two scenarios, I have prepared the chart below to show the movements in the value of your assets (in today's dollars).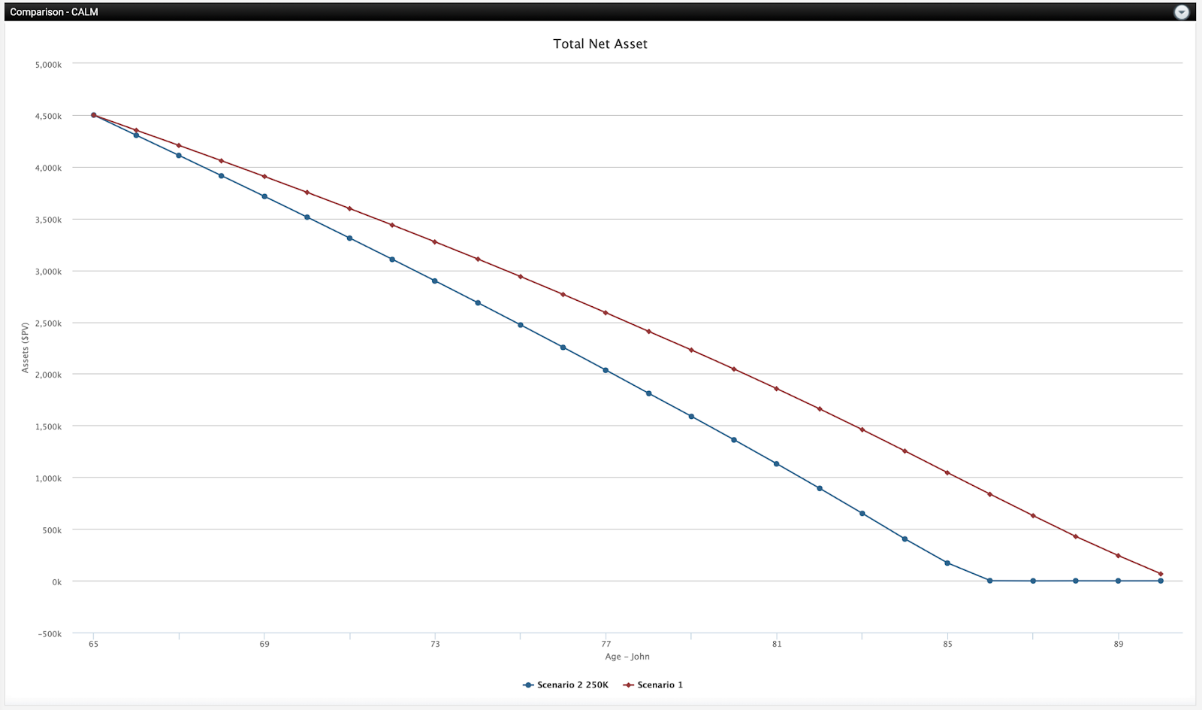 The red line is the first scenario, the blue line is the second scenario. I think the chart speaks for itself. This chart seems to support the work of your adviser but you will appreciate that I have very limited information on which to base my projections.
In both projections allowance has been made for potential entitlement for the Age Pension in the future as your assets decline and fall below the asset limits. It should be noted that you will be a very old man (based on these projections) before any entitlement to the pension kicks in.
If you have a question for Starts at 60's money experts, email it to 

[email protected]

.
IMPORTANT LEGAL INFO This article is of a general nature and FYI only, because it doesn't take into account your financial situation, objectives or needs. That means it's not financial product advice and shouldn't be relied upon as if it is. Before making a financial decision, you should work out if the info is appropriate for your situation and get independent, licensed financial services advice.