Cheques are facing extinction in Australia by the end of 2019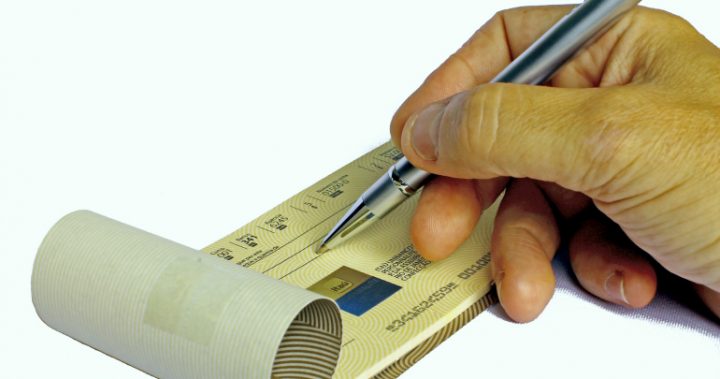 'The cheque's in the mail' would be a familiar catch phrase to most Baby Boomers, but very soon, the cheque won't be in the mail – ever again.
In a sign of our increasingly digital times, the humble cheque could completely disappear from circulation in Australia by the end of 2019. Financial comparison site Finder.com.au recently analysed usage data on cheques from the Reserve Bank of Australia (RBA), and found there had been a steep decline over the past five years.
In January 2012, 45,900 customer cheques were processed in Australia. This decreased to just 6,549 in October 2017, according to the RBA data. Finder.com.au extrapolated this rate of decline to forecast that there will be less than 3,000 cheques processed in December 2018, dropping down to zero by next Christmas.
Bessie Hassan, Finder.com.au's money expert, told News.com.au it's possible that the slow death of cheques will be extended slightly longer, with some users holding out and numbers continuing to decline.
"However, once cheques become increasingly rare, we would expect businesses to stop accepting them completely," she said, adding that "Generation Z, which covers all children currently in primary and secondary education, will likely grow up to not recognise a paper cheque at all".
Ad. Article continues below.
Cheques aren't the only part of our financial system facing extinction. The increasing use of debit and credit cards, and the resulting decrease in the use of cash these days, means that coins and notes are also likely to disappear from circulation within the next five years.
According to Finder.com.au, research by East & Partners found that debit card payments increased 56 per cent between 2010 and 2016. Cash payments made up just 10 per cent of all payments made to Australian merchants in the same period. 
"If this trend continues, cash payments are predicted to fall below 2 per cent by the year 2022, rendering Australia a virtually cashless society," Finder.com.au reported.
If you still use cheques, it might be worth starting to explore other payment options like debit or credit cards, setting up automated direct payments to pay your bills or using bPay. The cashless society appears to be coming our way, whether we like it or not.
What are your thoughts on cheques? Will you be sorry to see them go or do you think technology makes it easier to make payments these days?
Important information: The information provided on this website is of a general nature and for information purposes only. It does not take into account your objectives, financial situation or needs. It is not financial product advice and must not be relied upon as such. Before making any financial decision you should determine whether the information is appropriate in terms of your particular circumstances and seek advice from an independent licensed financial services professional.