Australia's richest and poorest suburbs: Where do you sit?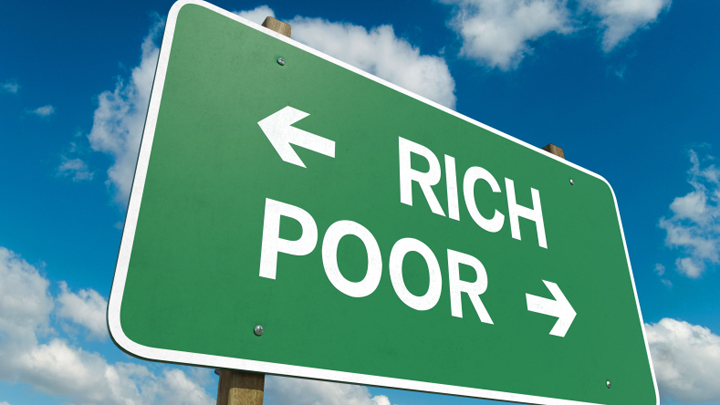 Ad. Article continues below.
Unless you've had your head in the sand for eternity, you'll know that there is an enormous gap between the rich and poor in this country, and in fact many countries throughout the world have the same issue.
New statistics from the Australian Tax Office show just how poor our poorest suburbs are, and how unbelievably wealthy the richest are. The statistics gathered from tax return information show that the richest people in Australia live on Sydney's harbourside, and the poorest are in rural NSW.
Shockingly, there's an average (mean) income difference of $155,823 between the richest postcode (2027) and poorest postcode (2403). The richest postcode in Oz comprises of suburbs Edgecliff, Rushcutters Bay, Darling Point and Point Piper and took the number one spot in the previous statistics as well. The average taxable income was $177,514 in the richest postcode, whereas the average $21,691.
Ad. Article continues below.
12.77 million taxpayers were assessed in the recent findings and accounted for negative gearing when calculating average taxable income.
It is also interesting to note the types of professions that contribute to a suburb's average earnings – surgeons were the highest earners, following by anaesthetists and legal professionals.
Of the top 10 richest suburbs, six were in NSW, three were in Victoria, and one was in Perth. And in terms of the poorest postcodes, seven are in regional NSW, two are in Queensland and one is in Victoria.
Amongst the wealthiest in our country, it's nice to know that there also a lot of generous people. The ACT claims the top spot for most charitable region with $62.7 million claimed in gifts and donations, with the average claimed in ACT per person was $575.
Ad. Article continues below.
Here is the full list of Australia's wealthiest and poorest suburbs, are you in here? Fairfax has a full interactive map where you can input your postcode to find out where your suburb sits. What is the average taxable income and salary in your postcode?
Source: ABC
Important information: The information provided on this website is of a general nature and for information purposes only. It does not take into account your objectives, financial situation or needs. It is not financial product advice and must not be relied upon as such. Before making any financial decision you should determine whether the information is appropriate in terms of your particular circumstances and seek advice from an independent licensed financial services professional.