Aussie's darkest hour: but is it a GFC repeat?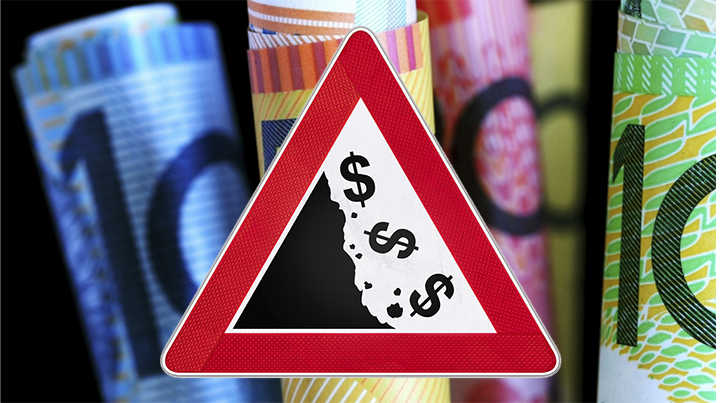 The Aussie dollar fell below 0.70 today for the first time in a long long time and GDP numbers disappointed.  But is this the beginning of a world of pain or is it a bump in the road?
70 cents for the Aussie is a massive psychological barrier and the lowest it has been in more than 5 years. It leaves many in the world wondering where we fit in the next part of the cycle. Fairfax media are quoting Fortress Hedge Fund Manager David Dredge as calling the beginning of a downtrend.
"August 2015 will go down in the record books, much like July 2007 or July 1997, as the beginning of the coming contractionary cycle," said David Dredge, the co-chief investment officer of Fortress Convex Asia Fund.
Australia relished our ties to China in the GFC when the Chinese economy continued to perform, but as the ripple effect of declining consumer spending in America and Europe slows our biggest trading partner it is clear our previously exciting economy is no longer the global hot sauce it used to be. Today's GDP numbers came in at 2.0, below the disappointing target of 2.2 percent for the year, gutting for hopes of a recovery in confidence anytime soon. The Reserve Bank has left rates on hold this week, and they are likely drawing satisfaction from the dollar's drop which puts money back in everyone's pockets in fuel, and the prices of imported products.
Australia has long been the place that is punished when international currencies trade into new cycles. Some experts call us "America's ATM", that is, Austalia is the place that global investors have been housing their money to enjoy relatively high interest rates and "carry trade" while the US and Japanese rates have been extraordinarily low.  But with American confidence on the rise, we're the place everyone draws their dollars from, to invest in more attractive locations with higher interest rate returns.
Ad. Article continues below.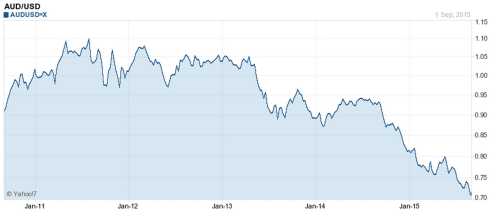 David Dredge says "capital is draining from the emerging markets as conditions have tightened, and has been since the "taper tantrum" of May 2013. In December 1999 the point wasn't whether you should invest in Apple or Microsoft. The point was they were both going down [as the tech bubble deflated]."
While CNBC reports Sean Callow, Senior Currency Strategist at Westpac is not so concerned saying "The Aussie's being singled out for punishment due to its heavy trade reliance on China…It's reflecting a gloomier outlook for China and commodity prices."
Ad. Article continues below.
What comes next is anyone's guess, but it is clear as the US is looking at rate rises, the Chinese are spending less, and our economy continues to have a negative bias, the Australian market becomes a risker environment to house money in than other economies.
What will it mean for you as a consumer?  It is clear the Reserve Bank thinks the slide in the Aussie dollar could be good for consumers and consumer spending, holding rates this week.  A low dollar environment usually means:
lower fuel prices
lower prices for imported goods like electronics and motor vehicles
increased internal consumer spending on tourism as Australians look to holiday at home.
Will a lower dollar affect your spending choices?
Important information: The information provided on this website is of a general nature and for information purposes only. It does not take into account your objectives, financial situation or needs. It is not financial product advice and must not be relied upon as such. Before making any financial decision you should determine whether the information is appropriate in terms of your particular circumstances and seek advice from an independent licensed financial services professional.