9 hobbies you can make money from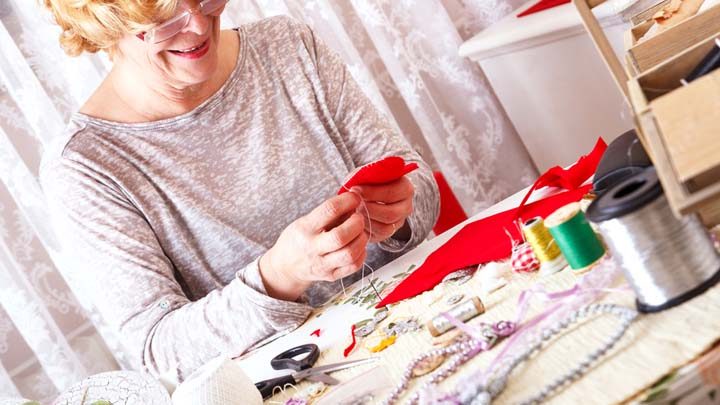 Over our life, our hobbies have developed and changed. When you were a child, perhaps you enjoyed making paper planes, or maybe you enjoyed sewing with your grandmother. Whatever it was, it brought you joy and gave you something to do.
Now, in your 60s, you may have a newly discovered hobby, or one that you've enjoyed all your life. But why should it just be something you do for fun? Common hobbies are making people around the world some spare cash, and you can get in on the action too.
Forget the typical markets or selling out of your garage – you can turn your hobby into income in ways you may not have realised.
Here's 9 hobbies that go beyond the living room. Why not supplement your pension or income?
1. Photography
Ad. Article continues below.
Taking photos is so enjoyable, and if you're really good at it, then you may be able to make a bit of money!
There are several ways to monetise your photography hobby. You can sell your photos to stock websites, or you can market to people you know. Word of mouth is your best friend, as many people like to look for budget options, and may be willing to take a chance on you early on. Get a nice portfolio, create a Facebook page, and advertise as much as possible with reasonable rates.
2. DIY upcycling
Are you addicted to doing up old items? Do you see potential in stuff others would throw away? You could earn money from upcycling furniture. Not everyone is handy, but many people appreciate older pieces that have been updates. Old duchesses and chairs are particularly popular. If you can use spray paint and have a creative streak, you could get a nice profit from selling your DIY creations.
3. Music teaching
Ad. Article continues below.
Do you love playing an instrument? A young person could really benefit from your guidance and experience. You could become one of the teachers or tutors that can help both children and adults to master the craft. And you don't even need to be considered an expert to teach. To start tutoring, you could put an ad on a site like Gumtree, or letterbox drop in your area. Parents are often looking for teachers and tutors to help their children master an instrument.
4. Crafts
Making crafts has been a popular way to make money for many years, but it has really blown up since the website Etsy was founded in 2005. Etsy is an online marketplace for arts and crafts of all types, from the very normal to the very unique. If you love to knit stuffed animals, or even make jewellery, this is the place to sell it. Most cities in Australia have craft markets where you can sell your wares too.
5. Proofreading and editing
Have you seen a websites and blog that needs proofreading and editing? It's very common to see spelling errors and grammar issues but not everyone has the eye for it. If this is something you're good at, either because of previous experience or because it's something you simply like to do, why not ask?
Ad. Article continues below.
6. Public speaking
Most people hate speaking in public, which is exactly why this can turn into a potentially lucrative opportunity if that's something you like to do.
Businesses need people who can speak to groups or even do voiceovers for ads. The possibilities are endless if you have the confidence.
7. Pets
If you love pets, there are plenty of ways to make money on this front. The most common are dog walking and pet sitting but if you're qualified, you could even do pet grooming. People are always looking for good deals and if you offer a great product at a great price, they'll come to you.
Ad. Article continues below.
8. Baking
Participating in local bake sales is not the only way to make money from your baking – there are plenty of small shops, bakeries, farmers markets, and even neighbours in your area that may need your skills. Baked goods have had a renaissance and many people now make cakes, cupcakes and even macarons for a living.
9. Shopping
Not only is mystery shopping legitimate, it's a great way to make money. Once you've signed up to a company, you complete a real transaction, rate the quality of service, and are reimbursed. If you love shopping, scratch that itch while still getting paid.
What hobby do you have?
Important information: The information provided on this website is of a general nature and for information purposes only. It does not take into account your objectives, financial situation or needs. It is not financial product advice and must not be relied upon as such. Before making any financial decision you should determine whether the information is appropriate in terms of your particular circumstances and seek advice from an independent licensed financial services professional.