Today I was recovering from the depression of yesterday. I'd gotten myself into a rut and couldn't get out of it. A nasty migraine ensued, blocking the vision of my right eye accompanied by sharp pains behind it while I felt like throwing up for about three hours. A good night's sleep had helped a lot but I knew I needed to do something, plan a bit, to shake it off. That's partly why I was here; unfinished business.
When I'd done research originally it indicated that the track was short. However, that only takes you to the lower cascade and I left right on dusk to get some even light. The lower fall however, isn't really photogenic, you need to go higher, but I only had time for one more so I ended up frustrated.
This time I was lucky, an overcast sky gave even light so I eased out on my way around 8am. I wouldn't see another soul for three hours.
Trying to avoid what life had dealt up to me recently, I continually checked the brook for photo opportunities and didn't come up short. There was a particular moss-shrouded rock that reflected in still waters about half way and the excitement from that pushed my mood into positive mode.
I reached the lower cascade that slides down a crack in the rock face right next to a dramatic fig tree whose roots were spread all over the right-hand side. It's here you have to ford the waters, what little there was of them, and start climbing.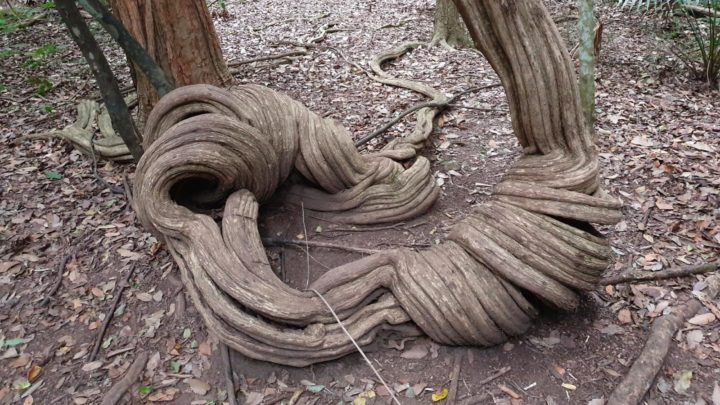 The down-to-the-tree-roots track was steep and unforgiving and you were forever grabbing trees and roots in order to gain height. The next fall up I spent little time at as I'd been there before but, from here on, it was new territory.
The paths, for there was more than one, spread their tentacles depending on where people wanted to go. Some led to falls, others sought to gain height, still more sought to skirt obstacles such as overworn areas that were badly eroded.
The next falls were short drops but, 100 metres behind them was a long cascade that splayed across steep solid rock that was cloaked in greenery here and there. It was impressive, but not conducive to an eye-catching photograph so I moved ever higher, still unsure of where it would all lead. The way was also getting steeper, making for slow progress.
Eventually you seem to roll over onto flatter sections or, more precisely, less steep. The cascades meanwhile, tried to find their way over time worn rock and moved from one side to the other, through crevices, beside boulders, sometimes split into two. The splashing sound brought the peace I had sought, a distraction from the mood I didn't want to sink into. It's one of the known benefits of bushwalking that it clears the brain out.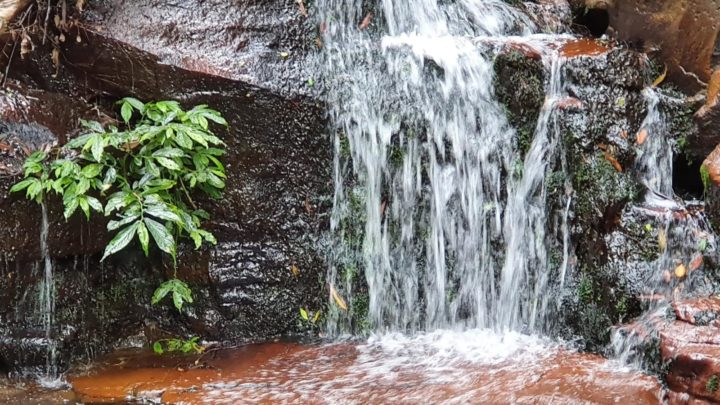 Then I came to an interesting set of falls, set the tripod up and spent a good 10 minutes snapping away. That was when I found the tomato. A wandering mind can put all sorts of connotations on something like that. Fate saying you had found a small garden of Eden, though I ate the fruit anyway. Let hell be upon me, but I smiled while it rolled around my mouth, contemplating lovely times I'd had with tomatoes over the years. Sicily may have been the sweetest, but this was undoubtedly the happiest.
I continued up, but there was no more up. At the top of this set it flattened out completely and a road went across the stream. There was no more; not today anyway.
I retreated to begin the descent; there was a sign on one of the spider web of trails that said 'Track Closed'. It's a shame it wasn't enforced more because, when eventually I got to the bottom, I noticed another jammed in a fallen tree. The trail desperately needs maintenance.
Going down was something my knees were not happy about but, at a slow pace, I managed to negotiate the steep bits, sometimes going down backwards, sailor-like, when it was too vertical. There seemed to be a paucity of animal life here also. It was a mature forest and little ground cover or primary growth was apparent, nothing much for animals to feed on.
The lower falls were reached much sooner that I'd expected. The nearly two hours it had taken me to get up were down to well under an hour. Makes a difference when you keep your camera in your or pocket.
The darkness of my earlier mood was replaced with some optimism as I contemplated working with the pictures and writing a story. I let the sky take over my mood as thick clouds rolled in and it started spitting just as I reached the van. I'd had some exercise, both physical and mental, and the shackles had been broken. Mind you, the tomato had helped.
Have you been on a spiritual or meditative travel adventure?
Been travelling? Travel at 60 wants to publish your story. Simply sign up as a contributor and submit your stories. When your story is published, you'll go into the draw to win some great weekly prizes. You can also join the Travel at 60 Travel Lovers Club on Facebook to talk to other travellers in the Travel at 60 community.