Marg is now unable to walk and has been in a wheelchair for the past 11 years. Every day I get her out of bed, help to shower and dress her, make all the meals and do the housework and food shopping.
Marg suffers from muscle spasms, has difficulty sleeping, her left hand doesn't work, her right hand is weak, she has no balance and she can't roll over in bed. She naturally finds it frustrating not being able to do things and being unable to walk and cook, but we do our best and have a good system in place to keep things running as smoothly as possible.
It's getting harder for me to transfer Marg into the car and to get out and about, but we are waiting on NDIS (National Disability Insurance Scheme) funding to convert a van into being wheelchair accessible so that will make our lives a lot easier. We are also about to start building a wheelchair accessible home, so that is going to be very exciting for us.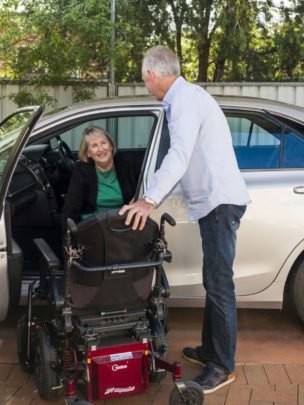 Last year, we were introduced to the Embracing Carers initiative, which aims to increase awareness, discussion and action around the often-overlooked needs of carers. We were keen to get involved to help others in caring situations not unlike our own.
Unpaid carers in rural and regional areas like us, are in extra need of support too, as the tyranny of distance makes it harder to easily access helpful services.
I find caring for Marg a very rewarding experience as I see the benefits it brings to her. I'm sure if people supported Embracing Carers to give a carer a bit of support, it would be most gratefully received. You always try to battle on on your own, but it's really good to know there is help out there. Having said that, I'd still do the same thing all over again. We have had a great life together.
Embracing Carers is a global initiative led by Merck in collaboration with leading carer organisations around the world and this year they are launching Time Counts to coincide with National Carers Week in Australia to encourage people to give their time to help someone they know who is helping a loved one as an unpaid carer.
Time Counts is about people giving time to connect with someone they know who is caring for someone else. Whether it's 5 minutes or a full day, there's no limit to the amount of time that can be given, and no amount of time is considered too small to show you care — because time really does count.
National Carers Week runs from October 13-19. Time Counts is about encouraging people to help make a difference in the life of a carer. These individuals often get little support or recognition for the significant contribution they make to the life of a loved one and they are essential for improving patient outcomes. You can join Time Counts by visiting www.embracingcarers.com to create a connection and access valuable resources to share with a carer in your life. If you want to help but don't know anyone who is a carer, you can help spread the word by sharing on social media using the #EmbracingCarers hashtag in your posts to help reach individuals in your network who may be carers.