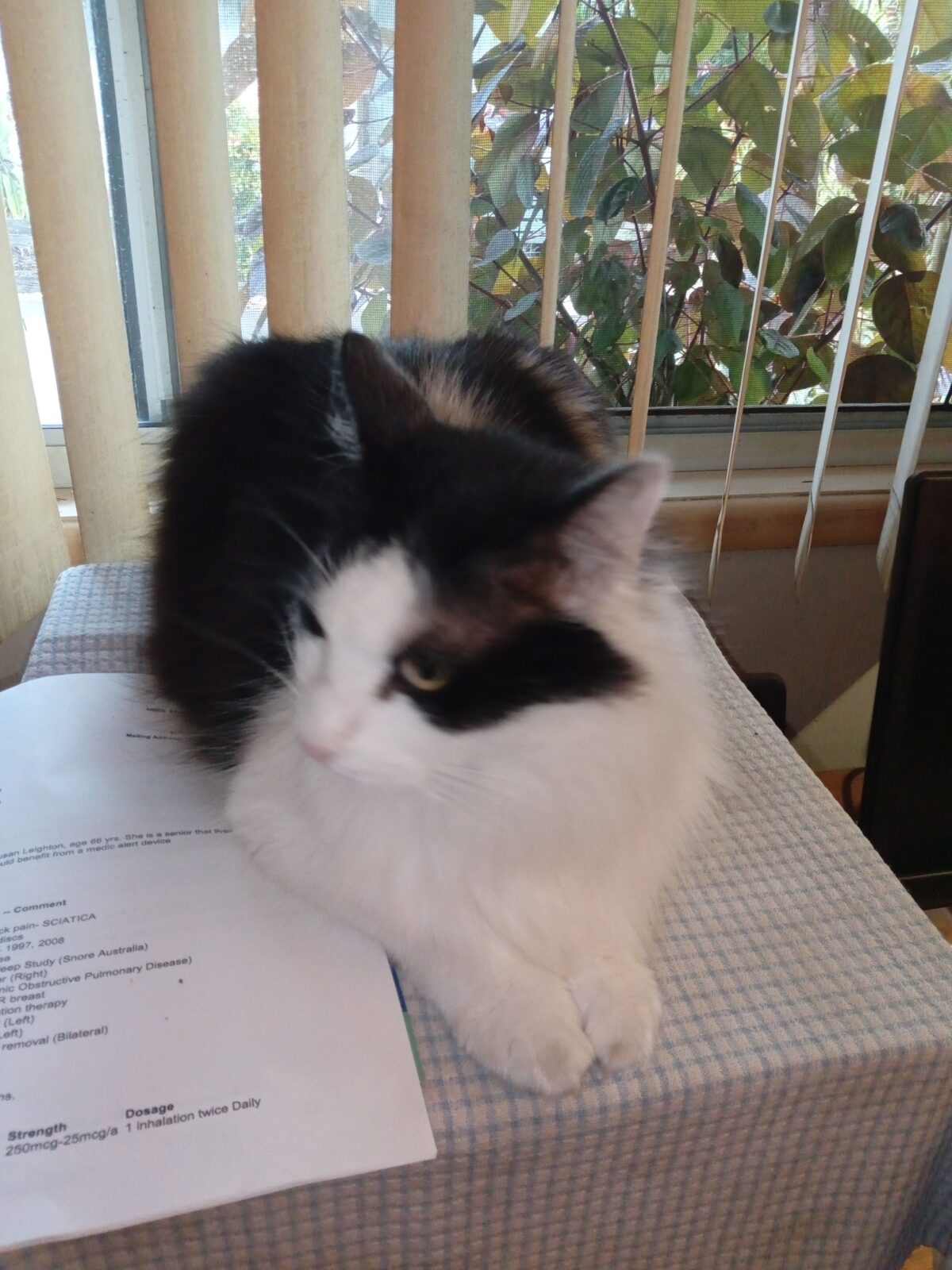 Yesterday was very hot and, looking for a spot to cool down, Penguin slipped out behind me when I went to do something in the carport, promptly disappearing under the neighbour's house. 
This time he decided to explore further. Alison, the park manager from the office, rang me to say there was a black-and-white fluffy cat staring at them through the office glass doors and they thought it was Penguin. I responded, "I'll be up straight away!" 
I thought for sure I'd be in for it but surprisingly Alison was pleasant and was actually looking for Penguin in the adjacent garden bed where, apparently, he was after a little lizard.
He wasn't to be seen. So I came home hoping he would find his way back and not get skittled by a car on the way. Half an hour later he sauntered back in the front door, as casual as you like, as if to say "Hi, Mum what's for lunch?" I could have wrung his fluffy little neck!
Moving on, he did his Houdini act again this morning. We've got to the point that he knows where his tucker is; he knows where he's loved and cared for, so he'll come home eventually. And, he did, and is now lounging on a cushion on my recliner chair, sound asleep.
He can be a pain in the freckle a lot of a time. He's very vocal and loud; walks all over my desk and keyboard when I'm working (not convenient); even though he has the entire side of the bed to sleep on, he sleeps on mine and I end up with my legs hanging off the edge of the mattress. But I love him to bits. He's a wonderful companion and loves his Mum. Jack, my budgie, is also wonderful but he's not so easy to bond with, and given Penguin's curiosity about him, he now lives on the front veranda.
Now while I can live with the escaping and the bed-hogging, Penguin's escapades the other night almost sent me over the edge.
I'd made myself a really tasty dinner, and seeing as it was dark and quiet, I let Penguin out while I had dinner and watched an episode of The Rookie. Soon, Penguin came back inside and disappeared straight under the desk. He had something in his mouth. It was a bloody rat! 
Thankfully, it was dead but after he'd played with the corpse for a while, he then began to disembowel it. I could hear him crunching its bones. He ate the whole thing bar its head. I thought I was going to lose my dinner. One thing was for sure, I wasn't going to attempt to remove what was clearly a prized possession from his jaws.
So, now I have rat blood under my desk, a disgusting smell that I keep trying to mask by spraying with an organic Black Orchid and Smoked Sandalwood spray, and a cat that won't shut up. If he thought he was sleeping on my bed that night, he had another thing coming.