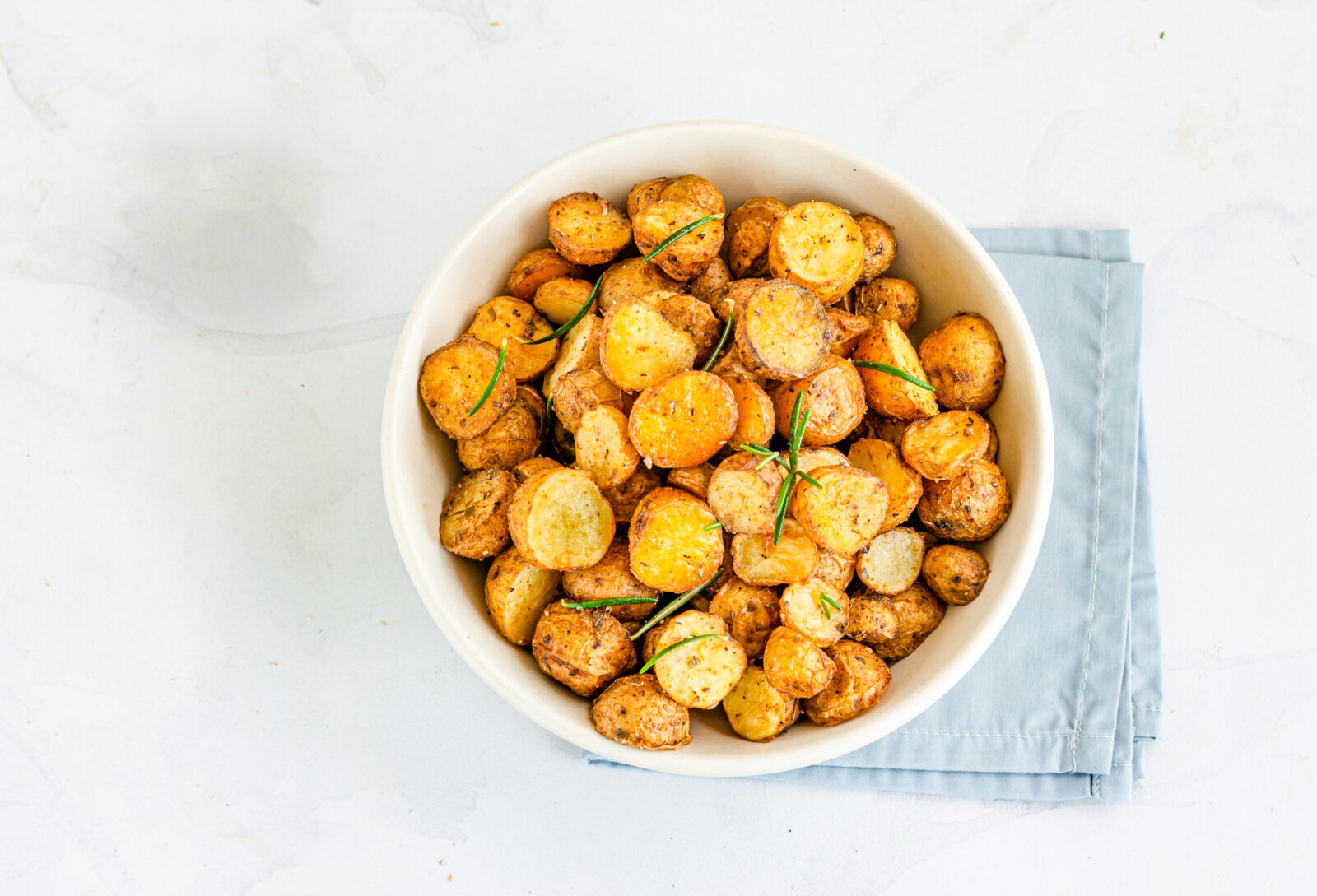 While it can be tasty, it takes a little more than simply chopping potatoes and popping them straight in the oven to get that perfect roast potato. But here's Yasmin's expert advice on how to get perfect roast potatoes.
"The ultimate way to get crispy roast potatoes is to firstly parboil (approx 7 mins) large peeled chopped potatoes in salted water," she explained.
"Next, drain and return to the pan then shake them to get a fluffy exterior. Once this has been done, toss the potatoes through hot oil that's been preheating on an oven tray then pop them in the oven to roast for 60-80 mins at 180C fan-forced."
Through this process, Yasmine says you're bound to have fluffy on the inside, crispy on the outside, and delicious roast potatoes every time.
Now, if you're trying to perfect that golden, crunchy goodness for your potato that you often see on cooking shows, Yasmine recommends chilling your chopped-up spuds in the fridge or freezer ahead of time and then adding them to hot oil.
"I recommend using heating oil on an oven tray in a preheated oven, helps get them super crispy," Yasmine said.
"Take frozen chips for example – they get deep fried where the change in temperature helps get that crispy golden exterior while keeping them nice and fluffy on the inside.
"An easy way to prep spuds in advance and great when you're entertaining to ensure a fool-proof perfect potato every time!"
When done, Yasmine also says to consider seasoning potatoes with salt after roasting.
"Salt draws out the moisture when they're roasting so they don't get as crisp. Seasoning after rather than before helps for maximum crispness," she said.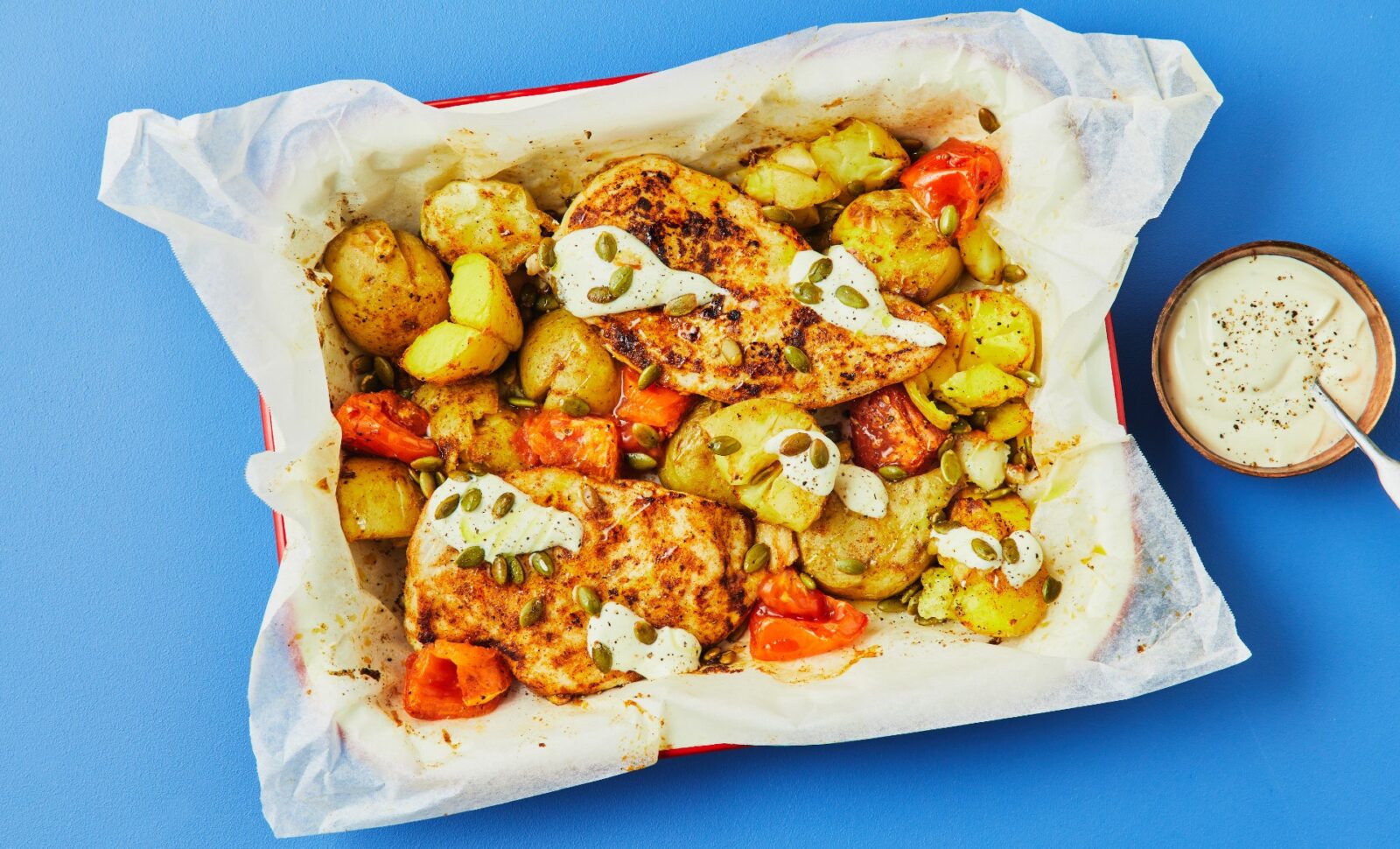 While potatoes are arguably the perfect side dish for any meal, Yasmine suggests upping your potato dish by pairing your potato with these sides:
Perfect for dunking: A classic sour cream and sweet chilli sauce made with mayo or aioli, it is a quick and easy side with ingredients you can generally find in the fridge!

Cheesy goodness: Potatoes love cheese, such as oozy brie, salty feta, a bright goat's cheese or a sprinkle of sharp parmesan can really lift any potato dish!

Get saucy: Zingy herbaceous sauces such as salsa verde or chimichurri spooned over potatoes pack a great flavour punch or smother them in a smooth creamy, cheese sauce for a decadent and comforting dish.

Herby fully loaded: Herbs are a potato's best friend! They add a unique complex flavour profile to potatoes. Try chives, parsley, rosemary or coriander

Proteins: bacon, spec, ham, hot smoked trout or salmon can really lift your potato game

For those feeling super luxe: How about shaved truffles with good-quality sea salt? Or caviar and sour cream… and a glass of champagne!
However, if the potato is the main hero of your dish, Yasmine has provided some scrumptious seasoning and flavour combinations you can try out to help elevate your roast potato.
Smashed woody herbs such as rosemary and unpeeled garlic cloves.

Toss with Indian spices then scatter with shredded coconut and cashews towards the end of roasting.

Greek-style lemon and oregano potatoes. Squeeze lots of lemon juice over the potatoes before roasting and the potatoes will suck up the juices like a sponge.

Oils and butter: infused oils or butter, duck fat etc.
Funnily enough, potatoes continue to get a bad rap when compared to other vegetables, but they have plenty of positives. It is best to leave the skin on potatoes as the skin holds valuable nutrients; dietary fibre to promote gut health, vitamin C and potassium to support healthy blood pressure levels.